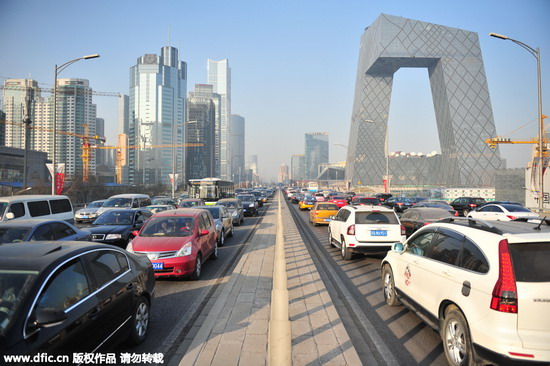 Masses of vehicles move slowly on a highway during a traffic jam in Beijing, China, on January 18, 2014.[Photo/IC]
Beijing will see severe traffic congestion on Sept 6, the first working day after the parade holiday and without vehicle restrictions, and Sept 7, the opening day for primary and middle schools, the Beijing News, citing the Beijing Municipal Commission of Transport, reported.
The Beijing transport authority predicted that the traffic performance index in the morning and evening rush hours on Sept 6 will exceed 9.2, which means a running speed below 20 kilometers per hour on most roads in the city, especially around school areas.
As the increasing number of outbound Beijing residents return after summer vacation, areas around railway stations and airports will also experience traffic jams.
To lessen traffic pressure, the Beijing Public Transport Co will add 3,400 buses a day and make special bus arrangements during the prolonged morning and evening rush hours, beginning Sept 7.
More frequent departing buses will start at 6:30 am instead of the usual 7 am during morning peak hours and end at 7:30 pm from the regular 7 pm during the evening peak. Shuttle buses and through buses also will be provided in heavy traffic areas.
People are advised to avoid congested areas and choose public transport.