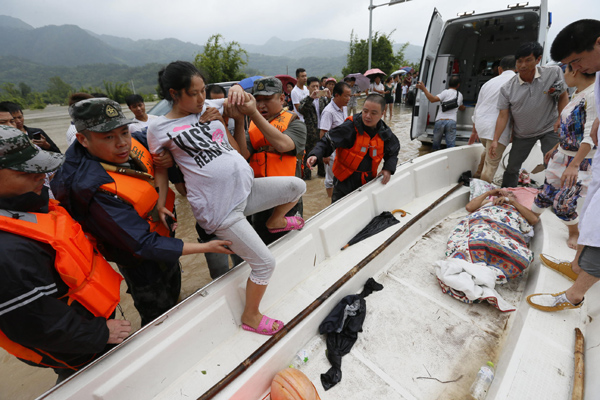 Rescuers help a pregnant woman board a boat taking her to a hospital in Ruian, Zhejiang province. Heavy rain hit the city on Sunday. [Photo/SUN LIN/CHINA DAILY]
HANGZHOU - Typhoon Soudelor, the 13th this year, has left 14 people dead and another four missing in East China's Zhejiang province, local government announced on Sunday.
In the hardest-hit city of Wenzhou, 12 were killed and four were missing. In the neighboring city of Lishui, another two were killed.
The 14 have been killed after being either washed away by flash floods or buried in house collapse or landslides, the provincial flood control authorities said.
The typhoon brought heavy downpours to the regions where precipitation in some counties reached 700 mm over the past two and a half days, a record in up to 120 years.
Floods have inundated several townships in the two cities, with water as deep as four meters.
"The rain pounded non-stop on Saturday night and when we woke up this morning, the car parked outside the home has almost been submerged," said a resident surnamed Chen in the county of Pingyang in Wenzhou. "We never expected the rain to be such heavy."
By Sunday afternoon, the typhoon has affected 1.58 million people and forced 188,400 to relocate in Zhejiang. It also toppled down 223 houses, damaged 272 roads and 43,600 hectares of crops, inflicting a direct economic loss of 4 billion yuan (644 million  dollars).
The typhoon has once cut power supply to 785,000 homes, but 60 percent have been resumed by Sunday evening.
Provincial officials have headed rescue teams to the hard-hit regions. In Wenzhou alone, more than 50,000 rescuers have been dispatched to help cope with the aftermath of the disaster.
Authorities also have warned of guarding against flash floods and landslides to avoid further casualties.
After pounding Taiwan and leaving six people dead, Soudelor landed in Fujian province and moved from there to neighboring Zhejiang, Jiangxi and Anhui provinces.
Anhui and Jiangsu provinces have launched a level-three emergency response for the typhoon and rainstorms, following nearby Jiangxi province.
More than 10,000 people in Anhui province have already been evacuated.
Authorities in Jiangxi have evacuated tourists and temporarily closed major tourist destinations to avoid potential backlash from the typhoon.
Soudelor landed at 10:10 pm Saturday in Putian County, Fujian. 
1.1 million people had been affected and 14,330 hectares of crops had been hit in the province, with direct economic losses of 986 million yuan ($159 million) reported.
More than 160,000 people were evacuated before the typhoon made landfall, according to the provincial flood control and drought relief authority.
In Fuzhou, the provincial capital, much of the downtown area was flooded. More than 10,000 trees had fallen and traffic stalled on flooded streets.
State Grid Fujian Electric Power Co Ltd said power to more than 2 million households was affected but had been restored to 630,000 by Sunday morning after repairs.
Three airports in the province were closed, with more than 530 flights canceled. Six expressways were also closed, and 191 high-speed train services canceled.
Fujian issued its highest typhoon alert on Saturday as Soudelor approached. Flights to Fuzhou were canceled, along with about 100 trains running through Xiamen. The airport in Quanzhou canceled flights.
Evacuees-mostly aquatic farm workers-were transferred to safe areas inland. Provincial authorities ordered all fishing boats to return to harbor by 10 am on Friday as gales were predicted later in the day.
As Soudelor moved on to neighboring Zhejiang and Jiangxi provinces, it was downgraded to a level-two typhoon from the previous level-three emergency-response rating.
Soudelor weakened into a tropical depression on Sunday night as it entered northern areas of Jiangxi, but would continue to endanger lives across eastern parts of the country in the first part of this week, the National Meteorological Center said.