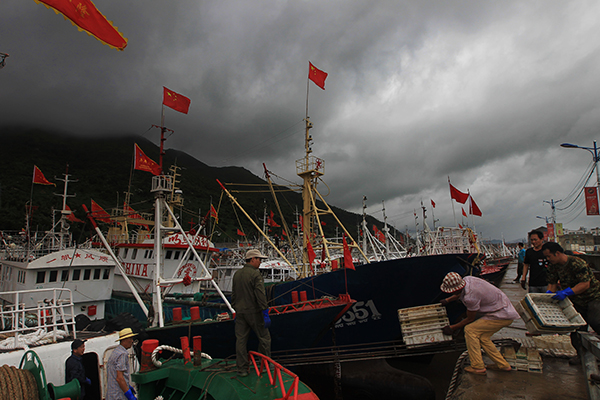 Fishermen in Wenzhou, Zhejiang province, unload their goods at a harbor on Friday as Typhoon Soudelor nears. SU QIAO/CHINA DAILY
FUZHOU - Southeast China is bracing for Typhoon Soudelor, with authorities ordering the evacuation of residents and ships back to port.
About 158,000 people in Fujian Province have been evacuated as the 13th typhoon of the year is expected to hit the province on Saturday.
Soudelor, which is moving northwestward at a speed of more than 20 km per hour, is forecast to land on the coast of Fujian Province on Saturday night after reaching Taiwan between Friday night and Saturday morning, according to the provincial flood control office.
The evacuees, mostly aquatic farm workers, have been transferred to safe locations inland.
Marine police rescued 55 university students and teachers from a small island in the province on Friday afternoon. They were attending summer camps but strong gales disrupted all ferry services, leaving them trapped on the islet.
Marine police set out for the island at noon and brought all 55 people back to shore four hours later.
The province ordered all fishing boats to return to harbor by 10 a.m. Friday, as gales were predicted later in the day.
Authorities in the neighboring province of Guangdong have also ordered fishing boats and aquatic farm workers to return to shore.
Seaside tourist destinations in eastern Guangdong have been temporarily closed.
The typhoon is expected to disrupt train and air services. About 120 trains, mostly running from Shanghai to major cities in Fujian and Guangdong, will be canceled over the weekend.
Airports have grounded flights bound for provincial capital Fuzhou or other cities in the province on Friday and Saturday.
China has a four-tier warning system for severe weather, with red being the most serious, followed by orange, yellow and blue. The National Meteorological Center first issued a yellow alert for the typhoon on Thursday morning and changed it to orange on Thursday night.