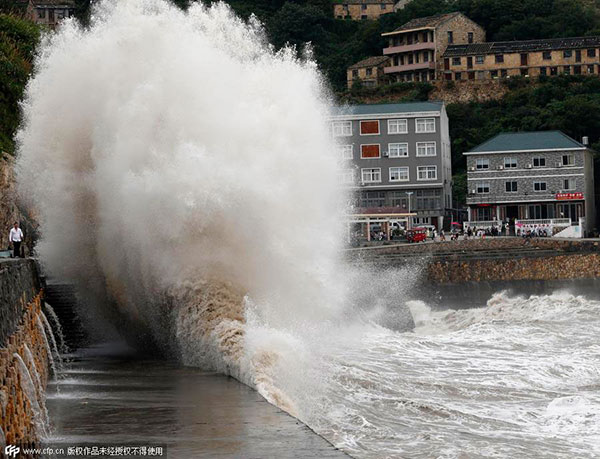 Strong waves hit Wenling in the coastal province of Zhejiang, on July 9, 2015. [Photo/CFP]
Zhejiang Loong Airlines defended its decision to fly in spite of typhoon Chan-Hom, which hit Shanghai and Zhejiang province last week, reported Beijing Times on Tuesday.
Loong Airlines claims they took advantage of the window of time when the weather met the safety standard during heavy rain and wind to complete the take-offs and landings on Saturday.
Loong Airlines said whether or not it is safe for an aircraft to take off or land depends on the wind speed and the rainwater on the runway. Based on their data, their airbuses were able to weather the bad weather when they took flight.
Over 600 flights were canceled that day in the cities of Hangzhou, Ningbo, Wenzhou and Taizhou. More than 7,300 coaches and all passenger ships also suspended service.
Loong Airlines, as one of the only five airlines which still operated flights, carried out 17 takeoffs and landings and only canceled eight flights.
A light-hearted article which gained a considerable number of views on WeChat talked about which airlines still kept their flight schedule despite typhoon Chan-Hom.
According to the article, one of the passengers who was on a Spring Airline plane described his/her experience:"I almost broke down. The plane flew through the thick cloud and I could see the wing curved. Then I was afraid to look and felt aggravated for a moment and suddenly, we landed. I couldn't help but applaud for the airline that kept me alive."
The article aroused people's concerns about the safety of the flights. Loong Airlines, Hong Kong's Dragonair, budget airline Spring Airlines, Ethiopian Airlines and Russia's Aeroflot Airlines were the airlines that flew during the typhoon.
Typhoon Chan-Hom could be the strongest typhoon to land in Zhejiang since 1949, according to the National Meteorological Center. The super typhoon made its landfall in east China on Saturday with speeds of up to 45 meters per second.