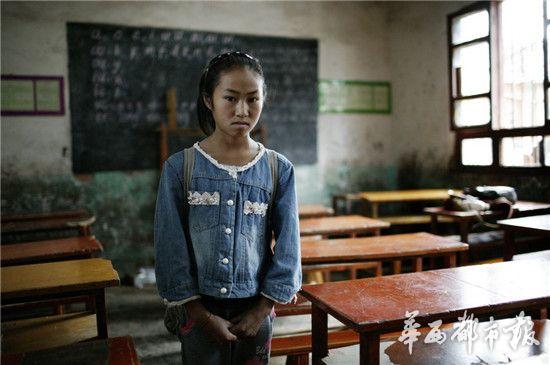 Mukuyiwumu [Photo/West China Metropolis Daily]
A 12-year-old girl whose heartbreaking essay about her tragic loss of both parents went viral on the Internet has got help from the local government, a charity organization and thousands of netizens and said she is not afraid of the hardship she faces, West China Metropolis Daily reported Wednesday.
The girl, named Mukuyiwumu (Liu Yi as pen name), is a fourth grade student in a poor village in Meigu county of Liangshan Yi autonomous prefecture in Sichuan province. She now lives with her paternal grandmother after her father died of illness in 2010 and her mother died of a heart attack in 2014.
In her essay written in class in June, she described her mother's poor health and death in a moving way. "My textbook said there is a place called Sun Moon Lake (in Taiwan), that's formed with tears I shed for missing my mom," read the essay.
The hashtag #the saddest essay written by a primary school pupil# became a hot topic on Sina Weibo, a Twitter-like social networking site, on Tuesday. It was read by more than five million people by Tuesday afternoon. Many netizens forwarded the story prefaced with "tears".
The sad story also caused a stir among our readers. A reader with chinadaily.com.cn with the user name "chinaright" wrote Wednesday: "What would happen to this orphan now? Will she be sent to an orphanage?"
Donations flooded in after the story spread online and by Wednesday noon, the Sichuan branch of sina.com had received about 430,000 yuan ($70,000) for its charity program called "Help Children in Liangshan Mountains". Donations via various online channels amounted to 920,000 yuan, according to sina.com.
Shy as she is, the girl from the Yi ethnic group is optimistic, strong and audacious. "I have no fear," she told the newspaper on Tuesday in a telephone interview when asked about living alone at night with a younger female cousin without any adult in a shabby house made of brick and cement. Her grandmother does not stay with them at night.
She likes painting and is good at writing, said Wang Zhaoxin, a volunteer teacher in her school, adding that she studies hard and ranks above average in her class.
She lives in poverty since her parents died but the situation has improved after July 19 when a local foundation called Azalea helped arrange free boarding and learning at a primary school in Xichang for her two younger brothers, one aged 5 and the other aged 10. Before that she had to take the 5-year-old brother with her when she went to school in the day. She also has an elder sister, aged 16, and an elder brother, aged 15, both of whom work in plants in more developed areas.
Being orphans, the siblings get about 600 yuan ($96) each in monthly allowance from the local government, said Huang Hongbin, head of the foundation. And the prefecture government confirmed Wednesday evening that the family gets 3,390 yuan every month in subsidies, 678 yuan for each orphan. The allowance is collected by their grandmother. The government also said the girl's essay was improved by her teacher.
The girl's paternal grandparents do not have much time for her because they are old and have to take care of her younger cousin at the same time, who was also orphaned. the newspaper said.
After school she will collect some weeds for raising a pig and then return home to cook for herself.
The essay was initially posted online by Huang on Sina Weibo on July 11, the newspaper said. Huang said he discovered the essay on July 8 when he visited her school.