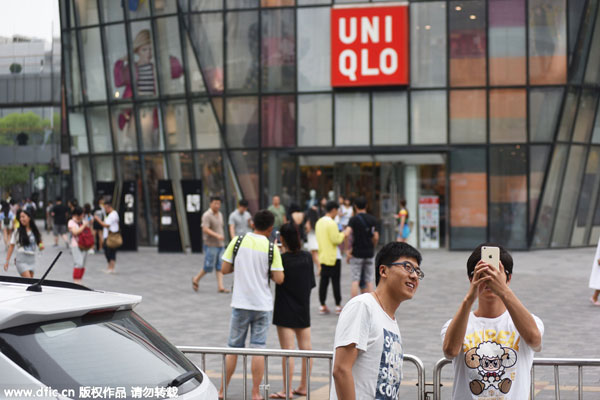 People take photos in front of a Uniqlo outlet in Sanlitun, Beijing, on July 15 after a sex video taken in a fitting room in the store went viral online. [Photo/IC] 
BEIJING -- China's Internet regulator on Wednesday reprimanded the country's two major web portals for their failure to prevent a sex video taken in a Beijing fitting room from going viral online.
The video shot on a smartphone and posted early on Wednesday shows a young Chinese couple having sex in a fitting room. The offscreen broadcast indicated that the video was taken in a Uniqlo store in Sanlitun, an upmarket shopping district.
The video went viral on both microblogging platforms of Sina and Tencent, the country's two major Internet companies, drawing fierce condemnation from Internet users.
Internet users are demanding strong action in the case, considered by many to be "vulgar marketing," according to a statement issued by the Cyberspace Administration of China (CAC).
A CAC official said the spread of the video had breached some bottom lines and violated core socialist values. The official urged Sina and Tencent to increase their awareness of social responsibility, strengthen management and cooperate with the authority in investigating the case.
The official said individuals suspected of propagating pornography should be held criminally responsible, adding that the CAC will keep high pressure on pornography in cyberspace.
Beijing police said Wednesday on its Sina Weibo account that the police in the Chaoyang district have noticed the video clip incident and are now investigating the case.
China's criminal law stipulates that those disseminating obscene books, films, pictures and video clips could face up to two years' imprisonment, while those who make the obscene products to earn profit could receive up to life imprisonment.
Uniqlo, one of the world's biggest "fast-fashion" chains, on Wednesday made a statement denying any involvement in the video.
The Japanese clothing chain posted a statement on its website and blog asking customers to "abide by social moral standards, maintain social justice, and use the fitting rooms properly."
A police officer interviewed by the Beijing News said that the couple will be punished if they are found to deliberately spread the footage. If not, he said, whoever originally posted the clip will be held responsible.