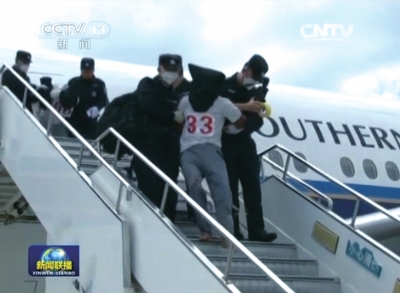 A screen grab from state broadcaster CCTV shows that illegal immigrants were repatriated from Thailand to China on Thursday.
BEIJING - A total of 109 illegal immigrants, who were repatriated from Thailand to China on Thursday, had been on their way to Turkey, Syria or Iraq to join jihad, the Ministry of Public Security confirmed Saturday.
Several recruitment gangs were uncovered in Turkey by a Chinese police investigation, which was also discovered that Turkish diplomats in some Southeast Asian countries had facilitated the illegal movement of people.
A large number of radicalized Chinese and the heads of organized gangs, also known as snakeheads, have been deported from Southeast Asia this year, according to the ministry.
Of the 109 individuals returned to China this week, 13 had fled China after being implicated in terrorist activities, and another two had escaped detention, said a ministry statement.
According to their accounts, many had been radicalized by materials released by the World Uygur Congress and the East Turkestan Islamic Movement (ETIM).
The recruitment gangs had used religious extremism to encourage people to go to Syria and Iraq to participate in jihad.
Some snakeheads, including Mehmut Obulela who was one of the people repatriated, told police that the gangs were well established and had a clear hierarchy. The gangs organized people to travel over land or sea through countries including Vietnam, Cambodia, Laos and Thailand to enter Turkey.
After arriving in Turkey, many, led by the ETIM terrorist group, went on to Syria to join the fighting. Even those who did not get as far as Syria, were involved in jihadist activities wherever they had stopped, they said.
A terrorist attack on a railway station in Kunming, the provincial capital of southwest China's Yunnan Province, on March 1, 2014, was the work of terrorists who had failed to illegally leave China. The attack resulted in the death of 31 people and 141 were injured.
Police also found that some radicalized people, instructed by the ETIM, were trained in Syria or Iraq and then returned to China to expand their terrorist network. These individuals were also implicated in terrorist activities.
The police have arrested many of these returnees, and uncovered several terrorist plots this year, said the statement.