Foreign Ministry criticizes politicization of issue related to illegal immigrants in Thailand
China said on Friday that Thailand's repatriation of more than 100 Uygurs to China is normal cooperation between countries as well as an international obligation, adding that China will not accept politicization of the issue by foreign governments and other parties.
"These repatriated Chinese minority citizens are illegal immigrants who have traveled to and stayed in Thailand through various channels," said Chinese Foreign Ministry spokeswoman Hua Chunying at a regular media briefing.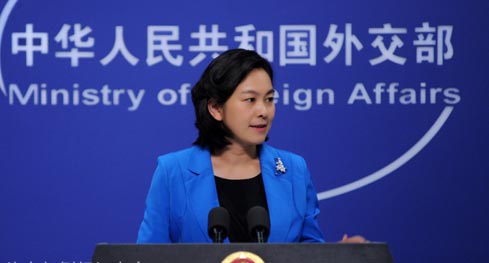 Chinese Foreign Ministry spokeswoman Hua Chunying answers questions at a regular media briefing in Beijing, July 10, 2015. [Photo provided to chinadaily.com.cn]
Illegal immigration using counterfeit passports violates law and disrupts the normal international order of exit and entry, she said.
Hua's comments came in response to a question regarding Thailand's repatriation of Uygurs on Wednesday, which sparked protests from some countries, including the United States and Turkey, and raised the concern of the United Nations High Commissioner for Refugees.
She said some foreign governments had ignored the facts and incorrectly termed these illegal immigrants "refugees", criticizing the law enforcement cooperation between China and Thailand and politicizing the issue.
"These serve as a connivance in illegal immigration and smuggling and a violation of relevant international treaties and law, which harm global joint efforts in combating illegal immigration. We will never accept it," Hua said.
She condemned recent violence against Chinese and Thai citizens and organizations in Turkey following Thailand's repatriation of the Uygurs.
"We highly value the Turkish government's promise to never allow anyone to engage in activities that sabotage China's interests on its territory, and we urge Turkey to take effective measures to protect the security and legitimate rights of embassies and personnel of China and other related countries," Hua said.
"We strongly protest some forces' attempts to interfere in China's internal affairs via ethnic and religious issues and to disrupt China's security and stability," she said. "These attempts are doomed to failure."
Repatriating the illegal immigrants shows that the Thai government exercised its sovereignty according to international and Thai domestic laws, said Dong Manyuan, a researcher with the China Institute of International Studies.
"The international community should respect its decision," he said.
Wang Qingyun contributed to this story.