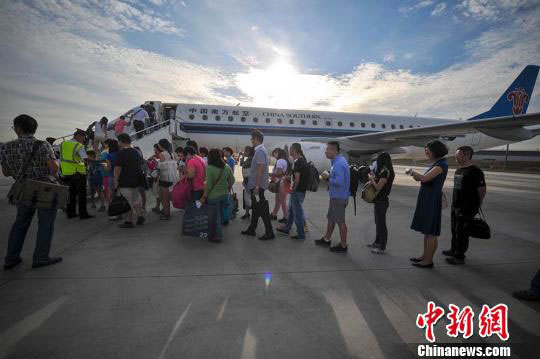 Passengers board Flight CZ6693, heading from Urimuqi to Koktokay, at the Urumqi Airport in northwest China's Xinjiang Uygur Autonomous Region on August 1, 2015. [Photo/chinanews.com]
A new airport has opened in Altay Prefecture of northwest China's Xinjiang Uygur Autonomous Region.
Koktokay Airport in Fuyun County received its first flight, carrying more than 100 passengers, from the regional capital Urumqi on Saturday.
The travel time from Urumqi to Fuyun has been shortened to 50 minutes from around seven hours, said a member of staff with the Xinjiang branch of China Southern Airlines.
The airline opened a new route linking Urumqi with Koktokay. The CZ6693/4 flight with more than 180 seats will fly to the town every day.
Koktokay, around 400 km from Urumqi, has abundant mineral and tourist resources. The new airport will bring Koktokay closer to the outside world, which officials hope will attract more tourists and boost local economic development.
Tourism in Xinjiang is improving after being hit hard last year, when there were a number of terrorist incidents in the region. In the first half of 2015, nearly 16 million domestic tourists and 667,700 foreign tourists visited Xinjiang.
There are now 17 airports in Xinjiang.