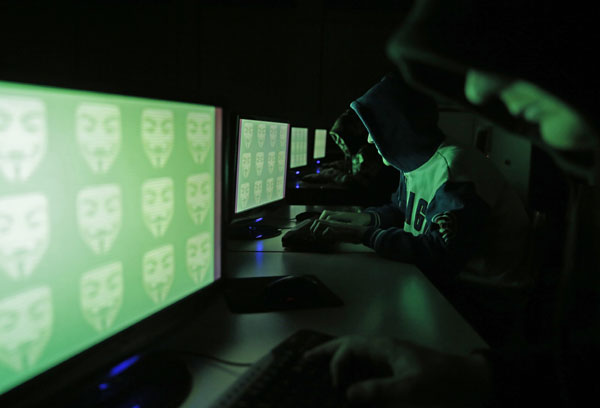 People pose in front of a display showing the word 'cyber' in binary code, in this picture illustration taken in Zenica December 27, 2014.[Photo/Agencies]
BEIJING - The top legislature on Wednesday adopted a new National Security Law, which highlighted cyber security and demanded the establishment of a coordinated, efficient crisis management system.
A total of 155 lawmakers at a bimonthly session of the National People's Congress (NPC) Standing Committee voted on the legislation, 144 were in favor, and one abstained.
The law included a cyberspace "sovereignty" clause, which covered assets and activities in space, the deep sea and polar regions.
Speaking to reporters at a press conference, Zheng Shu'na with the Legislative Affairs Commission of the NPC Standing Committee said the law was of pertinent importance in the face of "ever-growing security challenges".
"Externally speaking, the country must defend its sovereignty, as well as security and development interests, and [...] it must also maintain political security and social stability," Zheng said.
Thus, overarching legislation is needed to help with national security threats and risks, she said.
National security was defined in the new law as a "condition in which a country's government, sovereignty, unification, territorial integrity, well-being of its people, sustainable development of its economy and society, and other major interests are relatively safe and not subject to internal and external threats". It also included the capacity to sustain such a secure condition.
Zheng rejected the notion that the definition was "too broad".
"Any government will stand firm and not leave any room for disputes, compromises and interferences when it comes to protecting its core interests," she said, "China is no exception."
China's first national security law took effect in 1993 and primarily regulated the national security agencies, and their counterespionage work. It was renamed the Counterespionage Law in November last year.