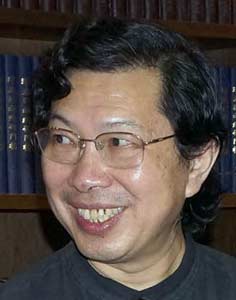 He Linxia, president of Guangxi Normal University Press
At a time when many bookstores are being forced to close, Guangxi Normal University Press has managed to build both fame and income by continuing to put out seemingly old-fashioned titles in the seemingly old-fashioned industry of publishing paper books.
With a relatively short history and operating from Guilin the Guangxi Zhuang automous region, GNUP made a profit of more than 58 million yuan (around $9.3 million) from its book sales in 2014.
Not just that, He Linxia, the company's president hastened to add, but also 88 titles from GNUP were included 183 times in various influential recommended reading lists in the media in 2013 alone.
He used to be a professor of historical archiving in Guangxi Normal University. Having been GNUP's chief editor since 1998 and president since 2008, the 56-year-old has succeeded in seeing his company combine good books and good business, a luxury that many other publishing companies dream about nowadays.
But no organization can be successful without continuously improving its services, and contributing to the betterment of the nation.
GNUP is not an old-fashioned organization, He explained. From its early days, the company began trying to allow its employees to hold shares. It was in 2000, "when it was yet to be permitted by the national policy", He recalled. The reform resulted in several subsidiaries where individual employees became their own bosses. "All were motivated," He said. Editors changed cover designs just to save 0.02 yuan in the cost per copy.
In order to provide maximum freedom to its editors, the company doesn't require them to follow fixed office hours, or to attend activities irrelevant to their work. "All they have to do is to put forward ideas and discuss them," He said.
As an affiliated organization of Guangxi Normal University, and based in the same city, the company has also earned the freedom to make its own decisions. In fact, He said, "In the past 28 years, the university has never nominated a top editor or executive without the company's consent."
The company is also practicing a much more liberal recruitment policy. In hiring young editors, being well-read is valued more highly than a university degree.
A case in point, He said, is Long Zizhong, a young man who once failed his university's English qualification test, so couldn't get his college degree, but is now an inspiring and successful example to all the staff.
GNUP's books cover a broad range of subjects across philosophy, the social sciences and the humanities. They range from Chinese translations of Plato, Adam Smith, John Stuart Mill and Max Weber, to works by Chinese scholars in Taiwan, Hong Kong, and overseas, and to contemporary authors on the Chinese mainland.
The Imaginist series, launched in 2002, accounts for 100 titles a year and has grown into a brand name, run by an independent team. It holds two reading salons and many cultural activities every year, opportunities for writers and readers to interact.
GNUP is uncertain about e-reading. The company started experimenting five years ago, putting out e-books and e-journals.
A dampening factor, He said, has been China's need for better legal protection of intellectual property rights.
"I would like to see change in our company, and in our industry," He said. "But for the time being, we carry on, hoping things will get better."
Contact the writers at zhangzhouxiang@chinadaily.com.cn