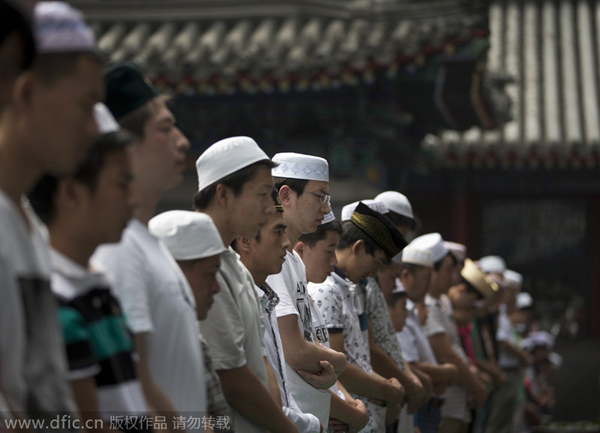 Muslims offer prayers outside the worship hall as they attend an morning prayer at the Niujie mosque, the oldest and largest mosque in Beijing, Tuesday, July 29, 2014. [Photo/IC]
China's Northwest
Xinjiang
Uygur autonomous region investigated 32 officials for arranging pilgrimages for unqualified people.
The government organizes a certain number of pilgrimages for Muslims each year. More than 14,000 Chinese pilgrims went to Mecca on a government-organized trip in 2014. Xinjiang has a large number of Muslims, and there is a long waiting list for people who apply for the journey. Some officials have abused their power by changing the list to cut waiting time for relatives, authorities said.
The officials, mostly from Kizilsu prefecture, violated Party discipline and were responsible for dereliction of duty, abuse of power for personal gains and power-for-money deals, according to information from the Xinjiang anti-graft watchdog.
Aniwar Turdi, the former director of the pilgrimage affairs office under the Xinjiang Ethnic Affairs Committee, was expelled from the Party and removed from his post.
He was transferred to the legal department with five other leading officials from the Kizilsu prefecture and Artux, the prefecture's capital city. The five, including Wang Xinzhong, head of Kizilsu's public security bureau, and Yalikunjan Turdi, mayor of Artux, were expelled from the Party and their posts.
The other 26 officials were removed from their positions and given warnings.
In addition to arranging pilgrimages for unqualified people, the investigated officials were found to have asked for and received bribes or neglected the inspection and management of pilgrimage work, authorities said.
The Xinjiang government has set up a political discipline inspection office to target misconduct by officials in religious affairs, including taking bribes in connection with organizing the pilgrimages to Mecca. The office has handled 13 cases of officials trying to take advantage of pilgrims in the first eight months of 2014.
gaobo@chinadaily.com.cn