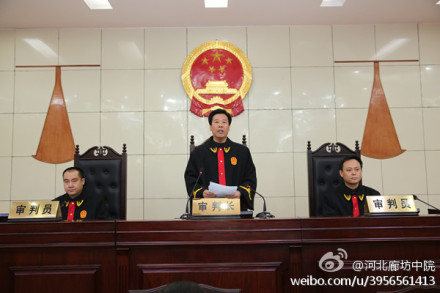 The Langfang Intermediate People's Court announces the verdict for Liu Tienan Wednesday, Dec 10, 2014. The court posted the photo with its official account on Sina Weibo, a microblogging service in China.
Liu Tienan, 60, a one-time leading light in China's energy industry, was sentenced to life imprisonment for bribery on Wednesday by a court in Hebei province.
The Langfang Intermediate People's Court found Liu guilty of receiving bribes worth 35.5 million yuan ($5.8 million) between 2002 and 2012,, personally or through his son Liu Decheng, when he was a department chief and later vice-minister of the National Development and Reform Commission, China's top economic planner.
Liu, also the former head of the National Energy Administration, has been stripped of his political rights for life and all personal property and wealth will be confiscated.
Liu's case came to light when residents reported information via the Internet about possible graft.
He was found guilty of abuse of power by securing profits for four companies - including Nanshan Group, a chemical firm based in east China's Shandong Province, Zhongjin Petrochemical Co. Ltd. based in East China's Zhejiang Province, GAC Group in south China's Guangdong Province and Zhejiang Hengyi Group Co. Ltd. - as well as several individuals.
The court confirmed that all the dirty money amassed by Liu had been returned to the state.
Liu's trial closed in September but it took until Wednesday for the court to deliver its verdict.
The court said the mitigating circumstances included Liu's honesty about most of his crimes and showed remorse.
When asked for his plea, Liu said he had accepted his guilt and would accept any punishment.
"Faced with the facts, I have been asking myself every time I read the indictment, is this me? How did I end up like this?" said a tearful Liu, according to court scripts posted on one of the court's official social media accounts in September.
"Each morning, I wonder where I am and how I have ended up in this state," said Liu, adding that he had also been a bad influence on his son.
Liu's case was brought to light through allegations posted online. Luo Changping, then a deputy editor of the magazine Caijing, disclosed Liu's suspected misconduct on social media and the post drew nationwide attention.
Liu was the first ministerial-level official to face an investigation after Xi Jinping became Party head in late 2012 and his case is seen as the start of the country's online anti-corruption efforts.