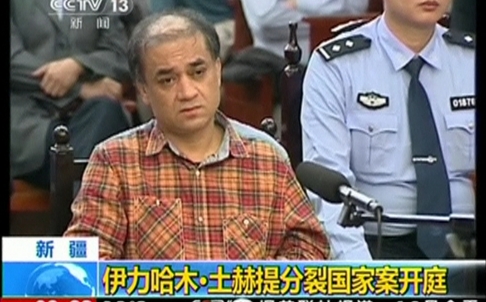 A screen grab from CCTV 13 shows lham Tohti at the court.
Ilham Tohti, a Uygur former economics professor at Beijing's Minzu University, was sentenced to life in prison for secession by a court in Urumqi, the capital of Xinjiang Uygur autonomous region, on Tuesday. The court also ordered the confiscation of all his property.
The verdict was handed down by the Urumqi Intermediate People's Court on Tuesday following a two-day trial last week. Ilham was indicted on a charge of separatism and accused of being involved in secession activities.
Ilham's family appointed two lawyers to defend him at trial, which started on Wednesday and was conducted in Mandarin instead of Uyghur at Ilham's request, according to the court. Ilham's wife was present at the trial, during which the court was heavily guarded and sealed off by police.
Ilham's case was turned over to the court by prosecutors at the end of July after police in Urumqi said there was conclusive evidence linking Ilham to secessionist activities in January.
Ilham used a website he set up, "UighurOnline", to spread rumors and separatist thought, as well as to misrepresent events to instigate ethnic hatred and calls for "Xinjiang independence", the Urumqi Public Security Bureau said in a statement in January.
He also told students "Uygurs need to use violence to protest", according to that statement, adding that he called those who carried out terrorist attacks "heroes" and instigated students to hate and even "overthrow" the government.
Police said Ilham used his status as a teacher to draw or lure people to form a group connected with key members of the overseas East Turkestan Islamic Movement, which is listed as a terrorist group and has sanctions applied by the United Nations. Ilham's group also helped to organize and send people abroad to carry out separatist activities, police said.