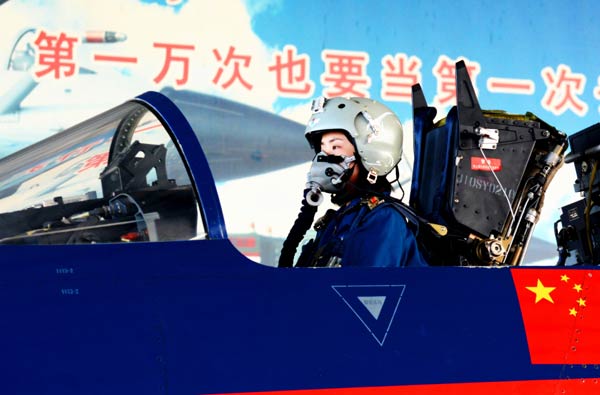 A female fighter pilot takes part in training at the PLA August 1st Air Demonstration Team base in Tianjin on Tuesday. Zhang Pengyan / for China Daily
China's first group of female fighter pilots will give an aerobatic display at an air show, highlighting the rising role of these elite women in China's air force, an aviation expert said.
"Female pilots have learned to fly cutting-edge fighter jets in the Chinese air force, but they can also fly bombers and early warning and control aircraft, after receiving training," said Wang Ya'nan, deputy editor-in-chief of Aerospace Knowledge magazine. "It means the air force has diversified its pilot pool and can recruit more female pilots for combat aircraft, in case of a shortage of male pilots."
The five female pilots will fly the J-10, one of the country's most advanced military aircraft, at the 10th China International Aviation and Aerospace Exhibition, Colonel Shen Jinke, spokesman for the People's Liberation Army air force, said at a news conference on Tuesday.
Airshow China, as it is commonly known, will be held in Zhuhai, Guangdong province, Nov 11 through 16. It is the biggest aviation and defense products exhibition in China and has been held in Zhuhai every even-numbered year since 1996.
In addition to the multirole, single-engine J-10, Wang said, these female pilots should also be able to fly the Sukhoi Su-27 and J-11, two twin-engine, super-maneuverable fighter aircraft in service with the PLA air force that are more powerful than the J-10.
"The Sukhoi Su-27 and J-11 require higher pilot skills, but I believe the female pilots can handle them," he said.
The five pilots, who have joined the PLA August 1st Air Demonstration Team, an aerobatic flight team, all have more than 750 hours of flying time in four types of military aircraft, Shen said.
He did not reveal the pilots' identities, but an earlier report in PLA Daily indicated that they are among the 16 women who became the PLA's first female fighter pilots in 2009. Previously, all female pilots in the PLA air force flew transport aircraft.
When the PLA air force first recruited female fighter pilots in 2005, more than 200,000 young women nationwide applied.
Sixteen air forces around the world have female pilots, some of them, including the United States and Russia, have female fighter pilots.
zhaolei@chinadaily.com.cn