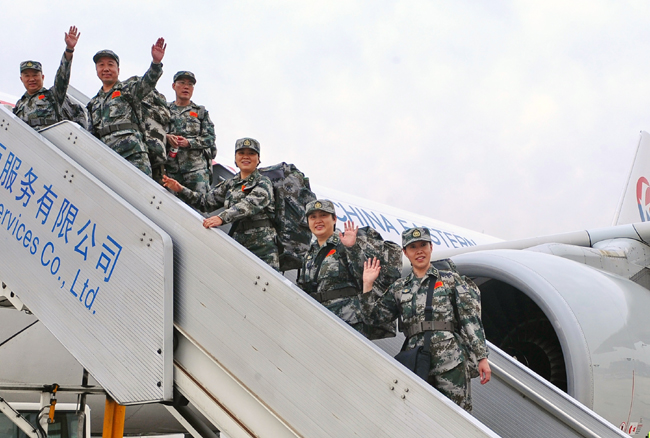 Medical workers wave goodbye in Beijing on Tuesday as they board a plane bound for Sierra Leone. Ma Ruzhuang / for China Daily
A team of 59 medical workers from China headed for Sierra Leone on Tuesday afternoon to help contain Ebola.
The team will be working for about two months in a hospital China helped build in Freetown, the capital, said team leader Gao Fu, deputy director of the Chinese Center for Disease Control and Prevention. The team is composed of workers from the center and from the 302 Military Hospital of China.
"Staff workers from the center will do virus detection to diagnose Ebola cases, while those from the hospital will be taking care of people who are being monitored for potential infection," he said, adding a mobile laboratory will arrive soon.
"Medical workers from China will take turns doing the tasks, which are expected to last six to eight months," he said.
In response to the Ebola outbreak, the World Health Organization set a goal to stop its transmission in affected countries within six to nine months and prevent its international spread. The organization urged "a massively scaled and coordinated international response" to support the countries.
The team may also be able to help Sierra Leone with its quarantine work, said Wang Yu, the disease center's director, who was in Sierra Leone during the first week of September.
"Sierra Leone will keep all its citizens indoors from Sept 19 to 21, and more than 700 units made up of troops and medical workers will search door-to-door for suspected Ebola cases," he said. "We may help them if we make it in time."
West Africa, where the virus broke out early this year, lacks the public health resources to keep the epidemic under control, and frequent people exchanges between China and the region further require China to help fight the epidemic, he said.
The WHO welcomes China's support "very strongly", said Martin Taylor of the group's China office.
"Identifying people who have become infected with the virus is an important part of the response now," he said.
More than 4,000 Ebola cases have been identified, with more than 2,000 deaths, he said.
"The WHO's traveler advice is that countries don't need to impose travel bans or restrict travel to or from the worst hit countries because the risk of transmission is relatively low," Taylor said. "For travelers who are traveling to those countries, we would advise they avoid mass gatherings in those countries."
Margaret Chan, the WHO chief, told AFP on Tuesday that the newly announced team will join the Chinese who had been on the ground in Sierra Leone "virtually since the beginning".
She said that the new commitment was "a huge boost, morally and operationally".
China has sent a total of 174 medical workers, including the 59, to Sierra Leone, Liberia and Guinea to help deal with Ebola since it broke out this year. Of those, 33 are still working in the assigned country, the National Health and Family Planning Commission said on Tuesday.
Contact the writers at wangqing-yun@chinadaily.com.cn and shanjuan@chinadaily.com.cn