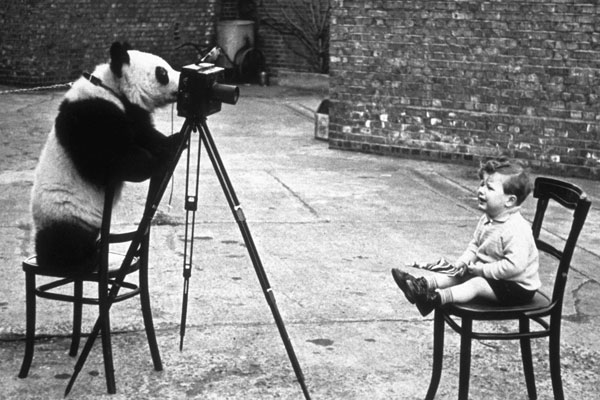 Ming the Panda gets behind the camera of photographer Bert Hardy in 1939 in London Zoo to take a picture of Hardy's son, Mike. [Picture courtesy of Getty Images]
The Giant Panda, always a key component of China's diplomatic relations with the world, is again playing a role as President Xi Jinping and his wife prepare for their state visit to the UK in late October.
This time the authorities in Sichuan, home to the bamboo-loving black and white mammal, are focusing their attention on Ming, a Giant Panda who lived in zoos in England from 1938 to 1944.
Ming, who spent her days between Whipsnade Zoo to the north of London in the Bedfordshire countryside and Regent's Park Zoo in central London, became a symbol to British people, particularly children, who visited her in their thousands during the dark days of German air raids on London.
Amongst them were the King and Queen's daughters, Princesses Elizabeth and Margaret, both of whom played with Ming in her compound during a much-photographed visit. Elizabeth, of course, went on to become Queen Elizabeth II, now Britain's longest-reigning monarch.
Bert Hardy, a well-known British photographer of the era, contributed to an impressive collection of pictures with what has become an iconic photograph of Ming. She is standing on a chair behind an old-fashioned plate camera on a tripod, with Bert's young son Mike seated in front of the camera as if the animal is taking his picture.
Ming sadly died in 1944, and earned her own obituary in the Times of London newspaper, but now her spirit is being used as one of the symbols to mark 70 years since China, Britain, the US and other allies triumphed over Japan in World War II.