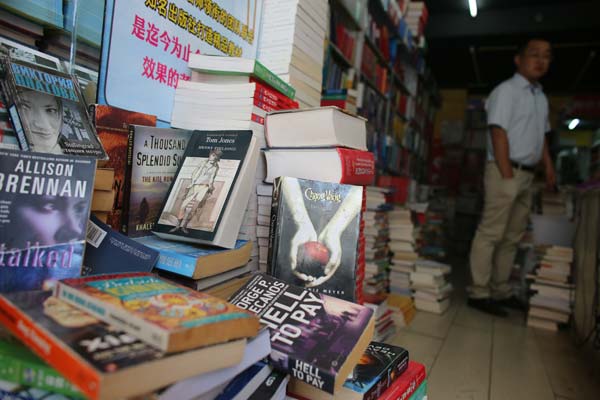 The interior of a bookstore at the University of International Business and Economics in Beijing. WANG JING / CHINA DAILY
Selling more
Smaller online bookstores are also experiencing increasing sales.
The decade-old Blue Fountain is one of the largest online bookstores in China that specifically sells imported books.
"Our company's sales have generally been growing fast recently. Since last year, our monthly sales have been consistent at the level of 300,000 yuan to 400,000 yuan. The sales for the first half of the year doubled from that in the same period last year," said Roc E, project manager of the company.
For Blue Fountain, best-selling book categories include original novels that have been adapted into popular movies and professional medical books.
E said the growth is expected to continue.
"More Chinese people are acquiring adequate language skills to read original books. The increasing internationalization of business also requires businesspeople to read firsthand the latest business information and knowledge. And lastly, there are more expats in China. They are more willing to buy original books through local book dealers," E said.
Academic books, traditionally forming the biggest section, is also expected to maintain growth.
Oxford University Press started to promote imported books at its Beijing office less than five years ago and it has experienced stable annual growth of 10 percent.
In the coming three to five years, the growth may continue at the current rate or is expected to slow down, said Ivy Yu, the manager in charge of its sales of academic books.
"But this observation is based on my business focus on academic books," she said in an e-mail response.
Yu said almost all the imported books OUP sold in China were the English versions. Every year, about 3,500 new book titles would be launched and the book titles being offered total 300,000.
"Our customers are basically high education institutions, scientific research institutions, public libraries, and some hospitals and government institutions that need to do research," she wrote.
Globally, readers can order books on OPU's website but it also cooperates with Amazon to sell books. Domestically, OPU launched the sales of imported academic books on Amazon last year, although the electronic business is still not its major channel. Its biggest customers are still the institutions mentioned, Yu wrote.
Less physical
Like Ma Duan, Zheng Xiaoqian from Nanjing University seldom buys books at physical bookstores.
Zheng, 31, is a doctoral candidate of English literature. She has to read a lot of English academic books to complete her dissertation.
"We seldom buy academic books these days since you can borrow them from various libraries and those books are generally expensive," she said.
Zheng said she had not gone to physical bookstores for a long time since they are far from the university and the Internet is a very convenient way to buy almost any book worldwide.
Zheng often visits online bookstores, including Book Depository and Abebooks.
Book Depository offers global buyers free mailing and it generally takes two weeks to one month for Zheng to get her books from the website.
"Most of the books that I buy are literature, especially novels," she said.
"Another good thing about buying books online is that big sellers such as Jingdong and Amazon often offer big discounts on imported books, which are really cheap and convenient."
Contact the author at yangyangs@chinadaily.com.cn