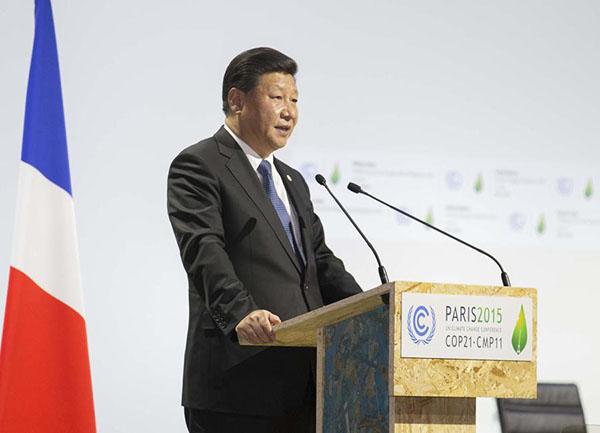 President Xi Jinping delivers a speech for the opening day of the World Climate Change Conference 2015 (COP21) at Le Bourget, near Paris, France, November 30, 2015. [Photo/Xinhua]
BEIJING -- At the opening ceremony of the ongoing Paris climate change conference, Chinese President Xi Jinping reaffirmed his country's confidence and resolve regarding its commitments in the global fight against climate change.
With "extreme resolution" and bold actions, China stands today as a staunch supporter, active contributor and constructive player in the global climate campaign, providing wisdom and inspiration to the conclusion of a major global climate agreement.
BOLD EFFORTS
In his speech in Paris, Xi stressed China has the resolve to walk its words, with regard to its commitment to combating climate change.
As a matter of fact, China, as a developing country, has been pushing its limits to contribute to the common goal that would safeguard sustainable development for mankind.
In his speech, Xi reiterated China's pledge made in June to cut its carbon emissions per unit of the GDP by 60-65 percent from 2005 levels by 2030, and increase non-fossil fuel sources in primary energy consumption to about 20 percent and peak its carbon emissions by the same date.
These pledges represent a big step further from the previous emission control targets of the world's second largest economy, which has been unswervingly committed to fighting global warming even faced with economic downturn pressure.
"This requires strenuous efforts but we have confidence and resolve to fulfill our commitments," Xi said.
"President Xi showed his resolve to address climate change and reach a strong agreement, with all countries taking action," said Jennifer Morgan, global director of the Climate Program, the World Resources Institute.