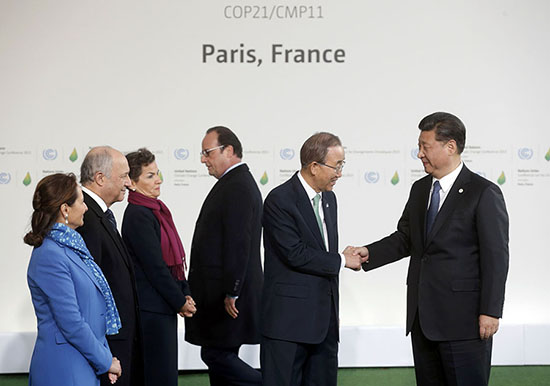 United Nations Secretary General Ban Ki-moon, accompanied by French Ecology Minister Segolene Royal (L), French Foreign Affairs Laurent Fabius (2ndL), Secretary of the UN Framework Convention on Climate change Christiana Figueres(3rdL) and French President Francois Hollande (3rdR) , welcomes Chinese President Xi Jinping as he arrives for the opening day of the World Climate Change Conference 2015 (COP21) at Le Bourget, near Paris, France, November 30, 2015. [Photo/Agencies]
Global leaders are gathered in Paris for the COP21 climate summit. Given Asia-Pacific's size and its contribution to global greenhouse gas emissions, its voice and commitment are critical to achievinga comprehensive agreement on climate change. Many Asia Pacific countries are developing and must focus on achieving sustained economic growth and development. Of the 49 regional members of the United Nations Economic and Social Commission for Asia and the Pacific, 43 have a light climate footprint, contributing only 10 per cent to global emissions.
For these countries, notably the least developed countries, Pacific islands and low-lying states, vulnerability to climate-related natural disasters will grow with climate change. At the other extreme, the region is home to six of the top 10 emitters in the world - China, India, Russia, Japan, Indonesia and Iran – which account for about 43 per cent of global emissions.Of these top six Asian emitters, fossil fuel-based energy is responsible for about 80 per cent of their collective emissions, with emissions from industrial processes, agriculture and waste playing a lesser role. Mitigating the emissionsof these countries requiresmultiple actions,key among which is a switch from fossil fuels to renewable energy sources.
Of the 183 countries that have submitted Intended Nationally Determined Contributions (INDCs) to the United Nations Framework Convention on Climate Change, 43 are from the Asia-Pacific region.Countries across the region have indicated both conditional and unconditional reductions of greenhouse gas emissions.Theseincludeeconomy-wide emissions targets or deviation from a business as usual (BAU) scenario to an intensity targets of emissions per unit of GDP. Many INDCs, particularly those from the developing countries, include an overall rise in emissions by 2030.
While this is remarkable in its own right, they still leave a significant gap between the INDCs pledged and the cuts required to keep the temperature increase to below two degrees Celsius warming limit. This gap is close to 16 billion tonnes of CO2 reductions per annum by 2030, roughly equal to the current emissions of China, India, and Russia combined. The only way we can bridge this gap is if we collectively treat the INDCs announced as the floor to be raised by enabling countries to adopt and implement additional measures needed with technical, financial and capacity support.