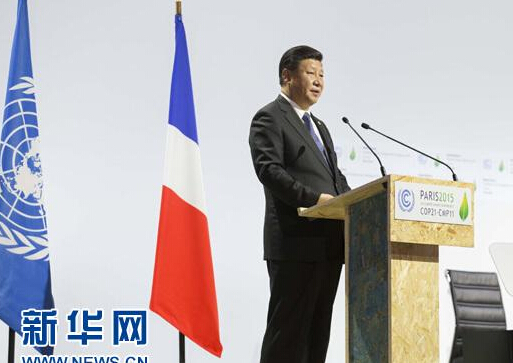 President Xi Jinping attended the opening of Paris Climate Change Conference and delivered and important speech on Nov. 30,2015. [Photo/Xinhua]
The most severe smog hit Beijing on Dec 1st. Air quality and climate change have again become the hot topics in China. More and more people are asking for blue sky. Around the same time, President Xi delivered an important speech named To Build a Prevention and Cure Mechanism for Climate Change on the Basis of Win-Win Cooperation, Equity and Reasonability at the opening of Paris Climate Change Conference, as the first Chinese president to attend climate change conference.
Du Xiangwan, the head of the Committee of Experts on National Climate Chinage and academician of Chinese Academy of Engineering, commented that," President Xi's attendence showed China's high attention towards the conference and its active attitude to be a part of global governance as a responsible power".
The Speech Showed China's Determination to Take Part in Global Climate Governance
Xi Jinping mentioned in his speech, that 20 more years after the United Nations Framework Convention on Climate Chnage took effect, positive progress has been made on global climate governance by the efforts of all parties. China has always been an active player of the undertaking of tackling climate change globally. China has determination and sincerity to make contribution to the success of Paris Climate Change Conference.
In September, Xi Jinping mentioned at Leaders Working Lunch on Climate Change of UN, that" China will further limit greenhouse gas emissions, and sets the goal of reducing 40% to 45% of its carbon intensity by 2020."
Du Xiangwan said that, according to Xi's many speeches, climate change is an important environmental and developing problem in the world, and president Xi sees this problem with a long-term and strategic view from the perspective of national and global sustainable development. Tackling climate change is a part of a green and low-carbon developing path. The achievements of Paris Climate Change Conference will uplift global confidence on climate governance, promote energy revolution and new development, and will benifit China, China's innovative, low-carbon development path and the international community.
Chinese Director General of WWF Lu Sicheng said that, President Xi's speech showed China's sincerity, hope and confidence to take part in global climate governance, which also expressed clearly China's political will of cooperationg with the international community to combat climate change.
Lu Sicheng also mentioned that, President Xi detailed the business direction of South-South Cooperation Fund on climate change, and brought up a series of working goals, which showed that Chinese government do what they said and put pragmatic preparations into action. He believed that China's efforts of promoting South-South Cooperation voluntarily and bilaterally is complementary to Convention's supports for developing countries.