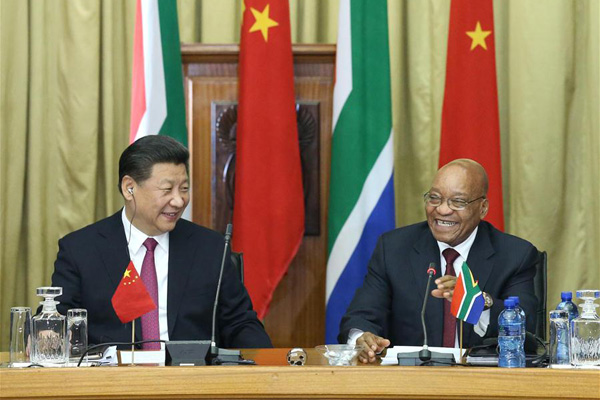 President Xi Jinping (L) holds talks with his South African counterpart Jacob Zuma in Pretoria, South Africa, Dec 2, 2015. [Photo by Pang Xinglei/Xinhua]
The increasingly deepening cooperation between China and Africa proves that there is a link between Chinese dream and African dream. The similarities between Chinese dream and African dream are to bring closer relations between two sides.
Chinese President Xi Jinping is on a state visit to Zimbabwe from Dec 1 to 2 at the invitation of Zimbabwean President Robert Mugabe. At the invitation of South African President Jacob Zuma, Xi will pay a state visit to South Africa from Dec 2 to 5, and he will also chair the Forum on China-Africa Cooperation (FOCAC) in Johannesburg.
"This will be a historic visit of the highest level, having the most significant influence on Sino-African relations and bringing about our most extensive cooperation," said Chinese Vice-Foreign Minister Zhang Ming at a press briefing.
How the two continue to forge a "win-win" relationship will become the focus of Xi's visit, which analysts say will demonstrate the importance China attaches to the continent.
China is one of the biggest developing countries and Africa is a continent where there are most developing countries. The cooperation between the two sides sets an example of South-South cooperation.
Over the past decade Sino-African relations have flourished, mainly in the areas of economic, social, military, science and technology, and education.
The upcoming summit will make Sino-African relations the strongest they have ever been, a senior Chinese diplomat said.
China will announce new measures to promote its comprehensive cooperation with Africa at the upcoming summit between the two sides, said Foreign Minister Wang Yi.
Wang said China will help Africa build up industrialization, food security, public health and disease prevention systems, of which Africa is in great need. China and Africa are set to enhance ties by encouraging people-to-people interaction.
Peace-keeping and security measures are also expected to be discussed at the summit.