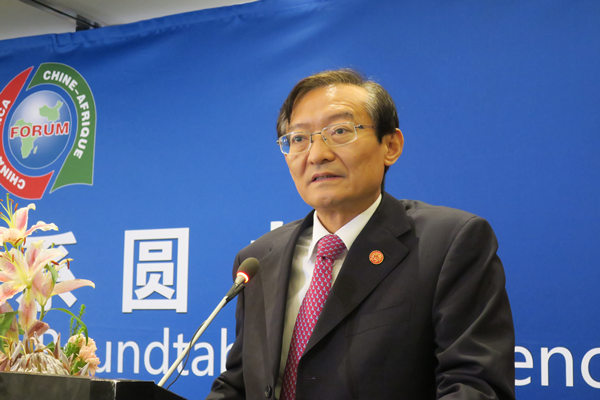 Zhang Ming, vice-minister of foreign affairs, speaks at the China-Africa Relations Roundtable conference in Johannesburg on Tuesday. Lucie Morangi / China Daily
China-Africa cooperation needs to be updated for greater quality and efficiency and strive for new and bigger progress against all odds, Chinese Vice-Foreign Minister Zhang Ming said on Tuesday at the opening of the China-Africa Relations Roundtable conference in Johannesburg.
"This is what our cooperation calls for and what both sides aspire to," said Zhang, adding that cooperation between the two partners should be deeply rooted to withstand the test of time.
"As members of the developing world, both China and African countries lack the voice and influence matched to their weight in today's international landscape," he said, adding that this underlines the need for deeper solidarity and cooperation.
He made his remarks at the one-day event that was attended by Nomaindiyo Mfeketo, deputy minister of International Relations and Cooperative Development of South Africa, and other government officials, scholars, entrepreneurs and journalists.
Zhang said that synergy between the two developing partners would make the international system more balanced and equitable.
He said that despite China and Africa implementing different development agenda's, the coming together of the 2.4 billion people in China and Africa presents an enormous resource and market advantage that is greater than the mere sum of individual strengths.
Africa is working on accelerating industrial revolution and modernization. China, on the other hand, is deepening reforms from being an export-oriented economy to domestic consumption while at the same time relocating its competitive industries and surplus production capacity overseas.
"China has not only the capacity but more importantly strong political will to support Africa in realizing independent and sustainable development. China-Africa cooperation is facing unprecedented historical opportunities. It is important that we do not let them slip by," said Zhang.
In her remarks, the South Africa deputy minister for international cooperation said the Forum Of China Africa Cooperation scheduled to start on Friday presents a platform for emerging economies to chart a new way forward in the wake of revised development agendas and UN Sustainable development goals. She said that it will elevate China-Africa cooperation to new levels and give new impetus to Africa developmental growth.
"Africa development agenda is realized through FOCAC," Mfeketo said, noting that this was cemented in 2009 when China became the leading trading partner with the continent.
She said that she believes that access to the giant Chinese market will trigger much desired economic growth.
The African minister said that African countries have aligned their development agenda to Vision 2063 and the China-Africa cooperation will usher in a new Africa with a new agenda.
"We are looking forward to building our manufacturing capacity. Africa therefore hopes that the forthcoming summit will advocate for Africa development agenda and emerge with concrete deliverables that will help the two partners engage in an objective way in future endeavors," said Mfeketo.