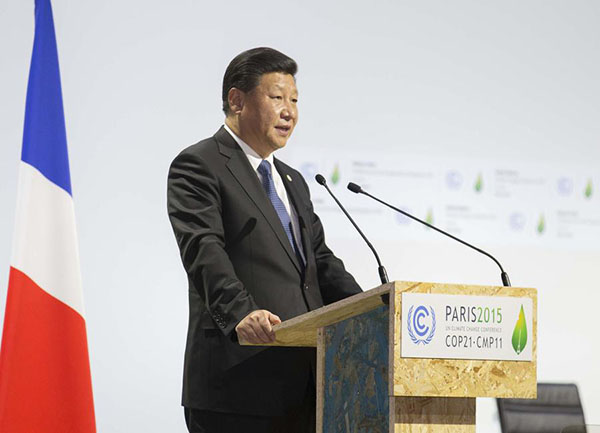 President Xi Jinping delivers a speech for the opening day of the World Climate Change Conference 2015 (COP21) at Le Bourget, near Paris, France, November 30, 2015. [Photo/Xinhua]
PARIS - Chinese President Xi Jinping on Monday sent strong signals at the ongoing Paris climate change conference, warning against mentality of zero-sum game, expressing resolve in fulfilling Beijing's commitments and showing willingness to advance international cooperation.
Xi made the remarks in a speech at the opening ceremony of the two-week Paris gathering, officially called the 21st Conference of the Parties to the United Nations Framework Convention on Climate Change.
The highly-anticipated meeting, opened by leaders from over 150 countries, aims to produce a new international agreement to cut greenhouse gases beyond 2020 when the 1997 Kyoto Protocol expires.
Such an accord is seen as crucial for keeping the rise in global temperatures within two degrees Celsius above pre-industrial times, a goal scientists say should be met to avoid risky changes in the climate.
NO MENTALITY OF ZERO-SUM GAME
The Paris climate talks should reject the narrow-minded mentality of zero-sum game, said Xi, urging all countries, particularly developed countries, to assume more shared responsibilities for win-win results.
Developing nations insist their developed counterparts with completed process of industrialization shoulder the greater burden for carbon emission reductions.
In his speech, Xi reiterated the principle of "common but differentiated responsibilities," a cornerstone laid by the UN Framework Convention on Climate Change (UNFCCC) in 1992, adding that it must be adhered to during the upcoming climate negotiations.
Xi suggested the Paris conference accommodate the national conditions of various countries and lay emphasis on practical results.
It is imperative to respect differences among countries, especially developing ones, in domestic policies, capacity building and economic structure, the Chinese leader said, noting the legitimate needs of developing countries to reduce poverty and improve their peoples' living standards should not be denied when the issue of climate change is being addressed.
Along with leaders of other developing nations, Xi also called upon developed countries to honor their commitment to climate finance and transfer of low-carbon and eco-friendly technologies to developing countries.
In the 2009 Copenhagen conference, it was agreed that poorer nations vulnerable to global warming impacts would receive 100 billion U.S. dollars per year by 2020 to give up fossil fuels and shore up defenses against climate-driven food scarcity, heat waves and storm damage.
"Developed countries should honor their commitment, mobilizing 100 billion U.S. dollars each year before 2020, and provide stronger financial support to developing countries afterwards," said Xi.
"It is also important that climate-friendly technologies should be transferred to developing countries," he added.
CHINA'S CONFIDENCE, RESOLVE
With regard to China's commitment to combating climate change, Xi said the world's second largest economy has confidence and resolve in walking its words.
As a matter of fact, China, as a developing country, has taken bold actions to reduce carbon emissions with ambitious climate goals.
According to an action plan submitted to the UNFCCC Secretariat late June, China has pledged to cut its carbon emissions per unit of GDP by 60-65 percent from 2005 levels by 2030, raise the share of non-fossil fuels in primary energy consumption to about 20 percent and peak its carbon emissions by the same year.
"This requires strenuous efforts but we have confidence and resolve to fulfill our commitments," Xi said.
China has been actively engaged in the global campaign on climate change, now topping the world in terms of energy conservation and utilization of new and renewable energies.
Aimed at a more sustainable and balanced way of growth, China's next national development blueprint seeks to promote clean industrial production, low-carbon development and energy conservation from 2016 to 2020.
China will, on the basis of technological and institutional innovation, adopt new policy measures to improve industrial mix, build low-carbon system, develop green building and low-carbon transportation and establish a nationwide carbon-emission trading market, Xi elaborated.
To act on climate change is not only driven by China's domestic needs for sustainable development, but also driven by its sense of responsibility to fully engage in global governance, and to forge a community of shared destiny for humankind, the action plan explained.
ADVANCING GLOBAL COOPERATION
Xi stressed that the Chinese government will continue to advance international cooperation on climate change, and earnestly implement its policy commitment to south-south cooperation.
In September, China announced the establishment of the China South-South Climate Cooperation Fund, with an input of 20 billion yuan (about 3 billion dollars), to help other developing countries combat climate change "in a show of greater support," as Xi put it.
Next year, China will launch cooperation projects to set up 10 pilot low-carbon industrial parks and start 100 mitigation and adaptation programs in other developing countries, and provide them with 1000 training opportunities on climate change, Xi announced.
China will continue to promote international cooperation in such areas as clean energy, disaster prevention and mitigation, ecological protection and climate-smart agriculture, and low-carbon and smart cities, he said.
China will also help other developing countries build up their financing capabilities for dealing with climate change, Xi added.
POSITIVE REACTIONS
Xi's speech at the Paris gathering has drawn positive reactions from delegates and experts attending the 12-day event.
His remarks are welcomed, said Samantha Smith, leader of World Wide Fund for Nature's (WWF) Global Climate and Energy Initiative, noting Xi has detailed China's cooperation plans with other developing countries in the Monday speech.
The principles of "common but differentiated responsibilities", "equity" and "respective capabilities" as Xi reaffirmed in his remarks are what the UNFCCC requires, commented Przemyslaw Sobanski, an official at Poland's Department of Sustainable Development and deputy head of the Polish delegation to the summit.
Speaking highly of China's initiative of setting up the climate cooperation fund, Sobanski said China is playing a responsible role in coping with challenges brought about by climate change.
Xi's remarks show his resolve in addressing climate change and pushing for a strong agreement with all parties to take actions, said Jennifer Morgan, head of the climate program for the World Resources Institute, a global research organization that has been working on climate change for over two decades.
China is ready to step into a pivotal role in reaching common ground on key issues in Paris, Morgan added.