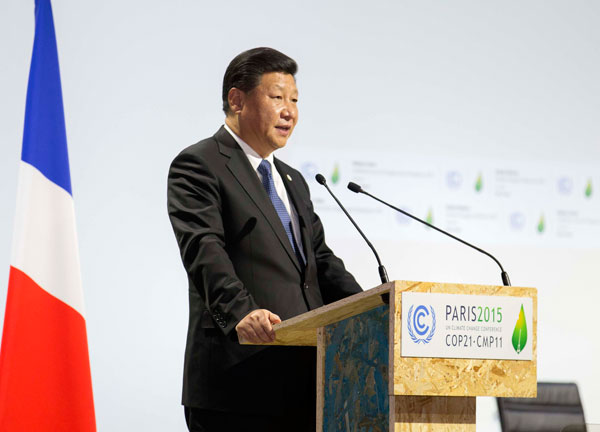 Chinese President Xi Jinping delivers a speech for the opening day of the World Climate Change Conference 2015 (COP21) at Le Bourget, near Paris, France, November 30, 2015.[Photo/Xinhua]
A new model emerging for 'win-win' global governance, president tells leaders
President Xi Jinping said the United Nations climate conference beginning Monday is "not a finishing line, but a new starting point" as an important part of global governance.
He joined up to 150 world leaders attending the UN climate summit in Paris, which aims to set the tone for a Paris agreement to provide a global framework for cutting greenhouse emissions from 2020 onward.
Xi said the leaders' presence at the conference, held just two weeks after the terrorist attacks in Paris, shows that terrorism cannot impede efforts to address climate change.
It is the largest gathering of global leaders under one roof in one day, said Christiana Figueres, executive secretary of the United Nations Framework Convention on Climate Change.
Observers said they were impressed by the vision and sense of responsibility shown in Xi's speech.
"The Paris conference should reject the narrow-minded mentality of a zero-sum game," said Xi, adding that the Paris climate conference should yield positive and practical results with a comprehensive, balanced, ambitious and binding agreement.
Xi said that tackling climate change is a shared mission for mankind and that global efforts on climate change are like a mirror reflecting for other countries a model for future global governance.
The principle of "common but differentiated responsibilities" should be adhered to, the president said, and the conference should create a win-win future, with each country contributing to the best of its ability and with countries being allowed to seek their own solutions.
Xi joined other leaders in trying to break the deadlock on financing in the UN climate negotiations and to bring real money to the table.
He urged developed countries to honor a commitment of a $100 billion climate fund each year by 2020 and to provide strong support to developing countries afterward. Meanwhile, it's also important that climate-friendly technology should be transferred to developing countries, he said.
China has pledged to provide 20 billion yuan ($3.1 billion) to establish the South-South Cooperation Fund on Climate Change to support other developing countries in coping with climate change.
Xi said ecological projects will be featured prominently in China's 13th Five-Year Plan (2016-20). He said China will help developing countries set up 10 low-carbon pilot zones from 2016.