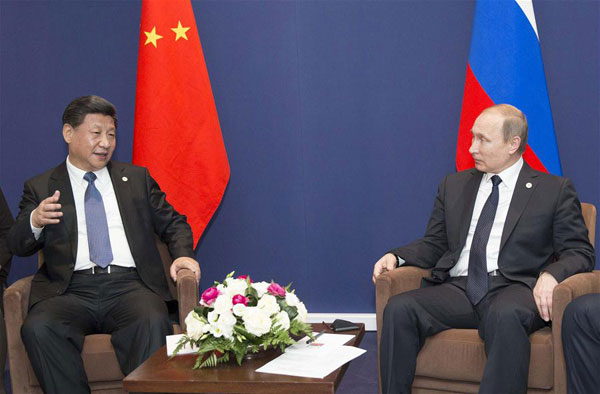 President Xi Jinping (L) meets with Russian President Vladimir Putin in Paris, France, Nov. 30, 2015. [Photo/Xinhua]
PARIS - President Xi Jinping and his Russian counterpart Vladimir Putin agreed on Monday to enhance cooperation on fight against terrorism.
During a meeting with Putin on the sidelines of a UN climate change conference, Xi said against the backdrop that tremendous changes have taken place in global anti-terrorism situation, China stands ready to work with the international community, including Russia, to combat terrorism and uphold the common interest of the world.
The China-Russia comprehensive strategic partnership of coordination is moving forward and developing in depth, the Chinese president said, adding that frequent high-level exchanges on bilateral ties, regional and global issues are necessary.
The Chinese side is willing to make concerted efforts with Russia to push forward bilateral cooperation in all areas, he added.
For his part, Putin said he believes the world has undergone complicated and profound changes, and Russia would like to work with China to enhance cooperation in such areas as anti-terrorism, and adamantly promote democracy in international relations.