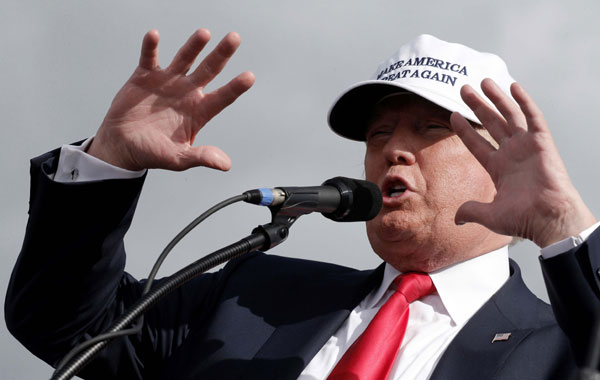 Republican US presidential nominee Donald Trump speaks at a campaign rally in Lakeland, Florida, US, October 12, 2016. [Photo/Agencies]
WASHINGTON -- A majority of Republican voters say that the party establishment is hurting the party with their continued criticism of presidential nominee Donald Trump, a new poll said on Wednesday.
According to the new Rasmussen Reports poll, nearly six in ten Republican voters believe it is bad for the party that party leaders continue to criticize Trump.
Meanwhile, half Republican voters say that the party leaders do not want Trump to be elected president.
The poll came days after an 11-year-old audio clip surfaced in which Trump was recorded of using lewd and sexually aggressive comments about women.
During the audio clip, Trump made remarks about an unidentified married woman he hoped to have sex with, boasted about how easy it is to attract women with his celebrity status and even talked about groping women.
When you're a star, women let you do anything, he was recorded as saying.
The New York billionaire later apologized for the "locker room banter" in the audio, but claimed that his Democratic rival Hillary Clinton's husband, former President Bill Clinton, "has said far worse to me on the golf course -- not even close."
However, Trump's bid to shift the focus appeared to have failed as Ryan, the highest-ranking Republican official, and other party leaders, released statements blasting the billionaire.
At least 30 Republican governors and lawmakers, including Senator McCain, the 2008 Republican presidential nominee, had so far made clear that they would not vote for Trump.