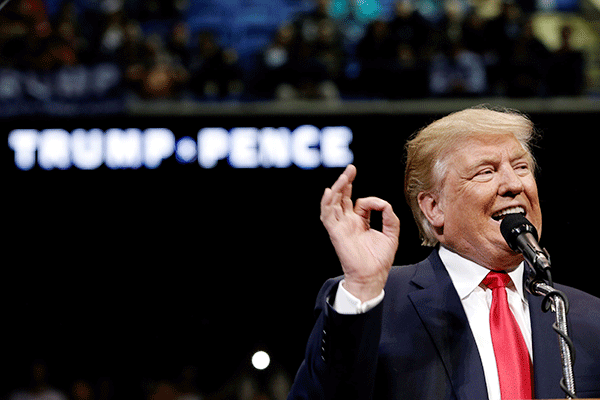 Republican US presidential nominee Donald Trump speaks at a campaign rally in Wilkes-Barre, Pennsylvania, October 10, 2016. [Photo/Agencies]
WASHINGTON - Republican presidential nominee Donald Trump on Tuesday unleashed vitriol at Republican party establishment, as party leaders either distanced themselves from or abandoned their bellicose standard-bearer after his leaked lewd women comments.
"Disloyal R's (Republicans) are far more difficult than Crooked Hillary. They come at you from all sides," said Trump on Twitter. "They don't know how to win - I will teach them!"
In other posts on Tuesday, Trump called House Speaker Paul Ryan "very weak and ineffective leader" and Senator John McCain "very foul mouthed" who "begged for my support during his primary."
Trump also proclaimed in one post that "shackles have been taken off" him and he could now "fight for Americans the way I want to."
The attacks at his fellow Republicans came at a time when Trump was scrambling to tackle the political fallout of new disclosure of his past lewd comments about women.
In a leaked audio clip recorded in 2005, Trump made lewd remarks about an unidentified married woman he hoped to have sex with, boasted about how easy it is to attract women with his celebrity status and even talked about groping women.
"When you're a star, women let you do anything," he was recorded as saying.
The New York billionaire later apologized for the "locker room banter" in the audio, but claimed that his Democratic rival Hillary Clinton's husband, former President Bill Clinton, "has said far worse to me on the golf course -- not even close."
However, Trump's bid to shift the focus appeared to have failed as Ryan, the highest-ranking Republican official, and other party leaders, released statements blasting the billionaire.
At least 30 Republican governors and lawmakers, including Senator McCain, the 2008 Republican presidential nominee, had so far made clear that they would not vote for Trump.
Though he had so far not rescinded his endorsement of Trump, House Speaker Ryan on Monday told fellow Republican lawmakers in a conference call that he would neither defend nor campaign with Trump.