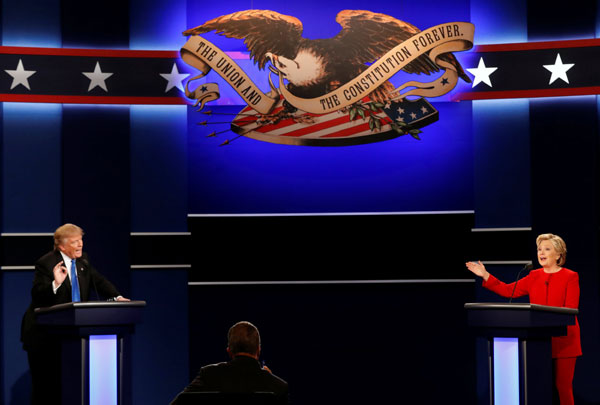 Republican US presidential nominee Donald Trump and Democratic US presidential nominee Hillary Clinton speak at their first presidential debate at Hofstra University in Hempstead, New York, US, September 26, 2016. [Photo/Agencies]
NEW YORK -- US presidential candidates Donald Trump and Hillary Clinton traded barbs in unusually personal terms during their first presidential debate, with Clinton blasting Trump for dodging taxes and being sexist and racist, and Trump accusing Clinton of lacking stamina for the presidency.
Their performance in the relentlessly derogatory showdown Monday night may help appease some voter concerns about their respective physical and mental fitness for presidency, but is far from building enough trust among undecided voters to chart a path to win the decisive 270 electoral votes for the Oval Office, US experts said.
TEMPERAMENT VS. STAMINA
In the 90-minute showdown widely expected to have been one of the most-watched presidential debates in US history, Clinton, the Democratic candidate, forced her Republican rival Trump onto the defensive over his temperament, refusal to release his federal taxes and his past sexist comments about women and the "birther" conspiracy regarding President Barack Obama.
Trump, in the meantime, accused Clinton of lacking judgment regarding her use of a private email server and said the first female candidate nominated by a major political party lacked "a presidential look" and "stamina" for the White House.
Clinton "got more under his skin than he under hers," Robert Shapiro, a professor and former chair of the Department of Political Science at New York-based Columbia University, told Xinhua. "She shows she was unflappable compared to Trump."
"Her best moments were at the outset in which she looked and sounded healthy and firm in stature, putting to rest any issues about her health. She had great moments criticizing Trump on his taxes and claims about Obama not being a citizen," Shapiro said.
Clinton's pneumonia diagnosis last month has raised voter concerns about the health of both Trump, 70, and Clinton, 68, forcing them to release their medical records.
"She got under Trump's skin at times and maintained control of most of the debate. These were Trump's worst moments," he added.
One of Trump's best moments was when he talked about trade and jobs,Shapiro said. "Also when Clinton made personal attacks on his behavior toward women, Trump did not opt to do the same by attacking her in the context of Bill Clinton's behavior with women."