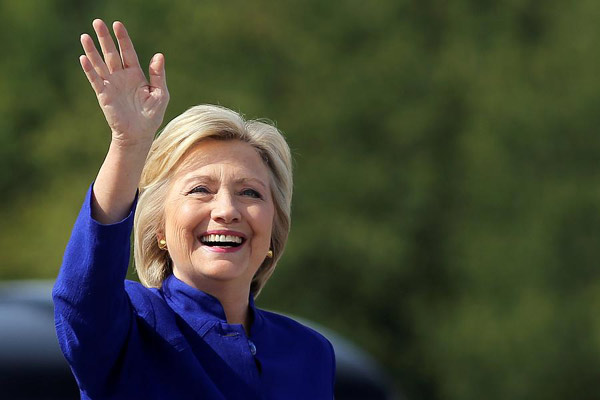 US Democratic presidential candidate Hillary Clinton waves as she boards her campaign plane at the Westchester County airport in White Plains, New York, US, September 21, 2016. [Photo/Agencies]
NEW YORK - The first of three presidential debates between the Democratic and Republican nominees, Hillary Clinton and Donald Trump, will be held Monday at Hofstra University in New York.
The debate will last 90 minutes without commercial breaks. NBC's Nightly News anchor Lester Holt will be the moderator to ask questions.
It would be the first-ever one-on-one debate between the two candidates, and the clash is expected to draw a record 100 million viewers. What can viewers expect to see as the two polar opposites face off against each other?
A WELL-PREPARED CLINTON VS. AN UNPREDICTABLE TRUMP
As a veteran debater, Clinton has more stage experience than most of the presidential candidates in recent history. But she still took a better half of recent weeks preparing for Monday, looking into massive data about Trump's history and past performances, doing mock debates with her team and preparing to defend possible attacks from the freshly businessman turned politician.
"I do not know which Donald Trump will show up," said Clinton in an August fundraising event in New York.
How would Trump approach the debate, and whether Clinton has any effective plan to tackle his facade will be interesting to watch for.
"Maybe he will try to be presidential and try to convey a gravity that he hasn't done before or will he come in and try to insult and try to score some points," said Clinton.
Trump, on the other hand, showed little clue if he will stay on message while looking presidential or resort to petty insults and name-calling that had worked to his advantage on the debate stage in the primary season.
He had been on the campaign trail to the various battleground states, paying minimal attention to the materials his team collected for him, and refused to participate in mock debates. But he had been studying videos of Clinton's previous debate performances "looking for her vulnerabilities," according to The New York Times.
Even if Trump decides to act "presidential," It is unclear whether he can resist the temptation to attack Clinton on personal issues, including her health and her husband's past infidelities.
But it's certain he would not give up the opportunities to go after the scandals that had been plaguing the race from day one, like Clinton's private email server and her relations with big donors.
"I can talk about her deleting emails after she gets a subpoena from Congress and lots of other things," said Trump in a recent interview with Fox News.