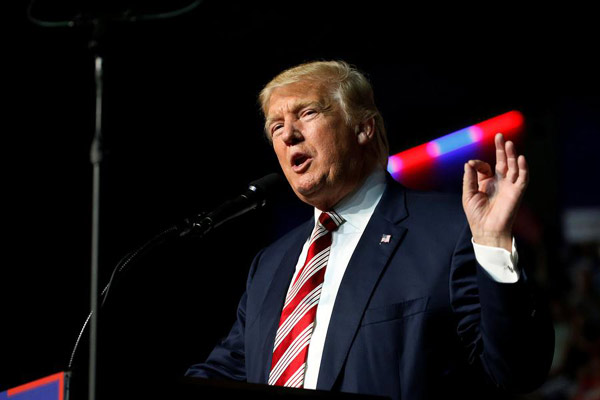 Republican presidential nominee Donald Trump holds a rally with supporters in Roanoke, Virginia, US September 24, 2016. [Photo/Agencies]
NOT ABOUT POLICIES
History has shown that a presidential debate was seldom a contest of which candidate has better policies.
Instead, it's a show of character and temperament. This was true ever since the very first nationally televised debate between Richard Nixon and John F. Kennedy in 1960. Radio listeners thought the debate had been a tie. However, with a baggy suit and bad makeup exposed by his constant sweating, Nixon was widely deemed loser of the debate by TV viewers in contrast to a well-dressed and poised Kennedy.
Clinton has been widely acknowledged by voters as experienced and competent for the job of president. There's hardly any doubt about it. She also has been in many one-on-one live debates throughout her long political career, while Trump has never done even one. So it becomes imperative for Clinton to appear experienced, mature and relatable. If Trump can drag her into an angry dog fight and exchange of name-calling, then he would have a better chance.
Being the first female major-party nominee in U.S. history, it would also be intriguing to see how or if Clinton will play the "gender card."
Studies find that gender stereotypes play an important role. It is already a concern how the viewers would perceive the fact that a 6-foot-2-inch (1.88 meters) Trump will tower over a 5-foot-7-inch (1.70 meters) Clinton when they stand together on stage. Research has also found that a man appearing aggressive will likely be perceived positively, while a woman appearing aggressive is mostly received negatively.
If Clinton remains calm and collected when under attack from Trump, and not get defensive or dismissive as she sometimes does during the campaign, she will score a better image among voters. Trump, on the other hand, should avoid his previous sexist rhetoric to ensure viewers wouldn't become sympathetic towards Clinton.