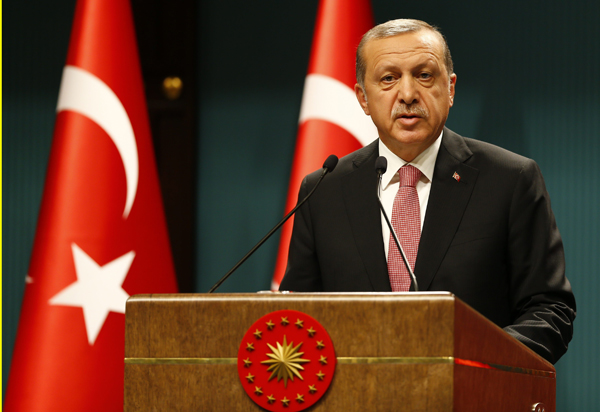 Turkish President Tayyip Erdogan speaks during a news conference following the National Security Council and cabinet meetings at the Presidential Palace in Ankara, Turkey, July 20, 2016. [Photo/VCG]
Turkish President Tayyip Erdogan declared a state of emergency on Wednesday. Erdogan said the state of emergency, lasting three months, would allow his government to take swift and decisive measures against supporters of the coup and was allowed under the constitution.
Emergency rule, which would take effect after it is published in Turkey's official gazette, would allow the president and cabinet to bypass parliament in passing new laws and to limit or suspend rights and freedoms as they deem necessary.
Erdogan made the announcement during a live television broadcast in front of his government ministers after a nearly five-hour meeting of the National Security Council.
"The aim of the declaration of the state of emergency is to be able to take fast and effective steps against this threat against democracy, the rule of law and rights and freedoms of our citizens," Erdogan said.