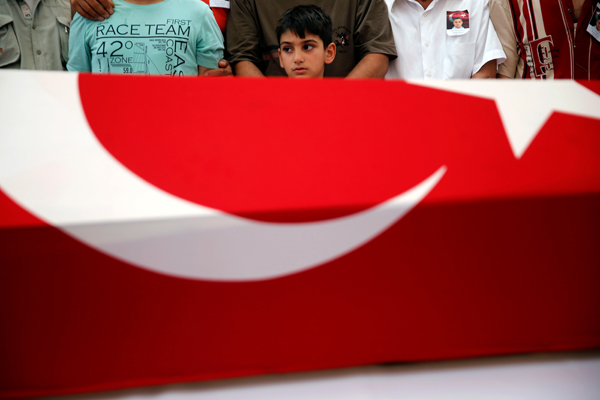 The son of Erol Ince, a police officer who was killed during a thwarted coup, stands next to the coffin of his father during a funeral ceremony at the Eyup Sultan Mosque in Istanbul, Turkey, July 18, 2016. [Photo/Agencies]
ANKARA - A total of 103 generals and admirals have been detained in investigations and operations against coup attempt plotters across Turkey, state-run Anadolu Agency reported on Monday.
The highest-ranking officer among the 103 was former Air Force Commander Gen. Akin Ozturk, Anadolu reported, adding that the courts will determine their fates.
More than 6,000 suspects in the military and the judiciary, including top commanders and Supreme Court judges, have been detained in the wake of the failed coup attempt.
The crackdown on alleged coup plotters has spread to the country's police department, with a total of 7,850 police officers on Sunday.
The failed coup attempt, which began last Friday, was crushed the next day; at least 290 people, including more than 100 "coup plotters," were killed, authorities said.