"I hope you put this (arbitral) decision in the wastepaper basket, or on the bookshelf, or filing cabinet and keep it there," Liu told reporters.
China hopes that the Philippines' new government, led by President Rodrigo Duterte, will not use the arbitration results, Liu said. He added that China is willing to negotiate with its South China Sea neighbors on jointly exploiting oil and gas resources in the waters.
Guo Weimin, vice-minister of the State Council Information Office, China's top international publicity authority, said during the news conference that Chinese deem the South China Sea as their "ancestors' sea", where arbitration "could not make a wave".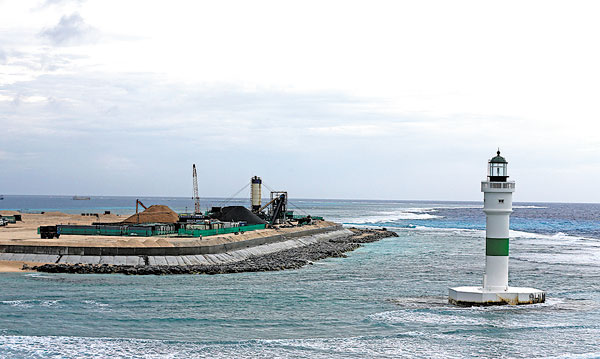 A lighthouse stands on Meiji Reef.
Wang Chong, deputy secretary-general of the think tank Charhar Institute, said negotiation is the most feasible and effective way to deal with maritime disputes now.
The talks must be held directly between China and the Philippines, without meddling from other countries, including the United States, he added.
Apart from making political and diplomatic efforts, China should also keep high military alert in the South China Sea in case of emergencies, said Wang Yusheng, executive director of the Strategy Research Center at the China International Studies Research Fund, a government think tank.
Meanwhile, the Japanese Coast Guard and Philippine Coast Guard started a joint military exercise on Wednesday in the waters off Manila Bay of the Philippines. They said the exercise aims to enhance the capabilities of both countries' coast guards.
anbaijie@chinadaily.com.cn