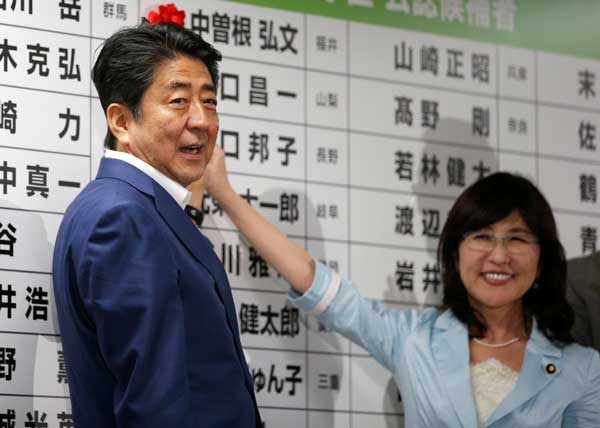 Japan's Prime Minister Shinzo Abe (L), who is also leader of the ruling Liberal Democratic Party (LDP), smiles with LDP policy chief Tomomi Inada as they put a rosette on the name of a candidate who is expected to win the upper house election, at the LDP headquarters in Tokyo, Japan July 10, 2016. [Photo/Agencies]
TOKYO -- The Japanese ruling camp led by Prime Minister Shinzo Abe retained its majority in the parliament's upper house through a victory on Sunday's election in the chamber and paved way to constitutional amendment as upper house lawmakers who support to review the country's war-renouncing constitution reached two-thirds majority, final election result showed early Monday.
Half seats in the 242-member chamber was contested in the election and the prime minister's Liberal Democratic Party (LDP) gained 55 seats, securing a total of 145 seats for the ruling camp. Its small ruling partner of the Komeito Party won 14 seats.
After acknowledging that the ruling coalition won the election and retained the majority in the upper house, Abe told a press briefing during the vote counting that the result showed that his decision on sales tax hike postponement was correct and vowed to promote economy in the future.
In a very cautious way, the prime minister said that the constitutional amendment should be discussed more. "Different parties have different viewpoints on the issue, therefore more discussions should be done, even among the parties that support the amendment," said Abe, but adding that the issue should be raised to the Japanese public.
To launch a Constitution review motion requires approval by two-thirds majority in both chambers of the Japanese bicameral parliament. The Abe-led ruling bloc already secured the overwhelming majority in the lower house.
The prime minister is a well-known historical revisionist who expressed his eagerness to review the Japanese pacifist constitution many times. He indicated before the election that he will try to discuss the Constitution review during the autumn parliament session.
Abe also expressed his disappointment over the election failure of incumbent Minister in charge of Okinawa affairs, but he added that the ruling camp will continue push the planned relocation of the key US Futenma airbase within the Japanese southernmost prefecture of Okinawa.