Regardless of its tempestuous and dramatic plots and subplots, the US electoral system is nothing but an internal American affair. Politicians running for the US presidency, however, should try to view the election through a more global and comprehensive lens to avoid any risk of undermining the US-China relationship.
A healthy US-China relationship with a solid foundation will serve the fundamental interests of the two peoples, safeguard world peace and regional stability and bring prosperity to the Asia-Pacific and the whole world.
It's no secret that US presidential candidates tend to adopt a "China bashing" strategy in election years. Their rants against China, no matter what the topic might be, follow a road map of "the harsher, the blunter, the better".
Democrat primary candidate Hillary Clinton, a noted China hawk, has criticized China during her campaign on a series of issues ranging from human rights violations and cyber attacks to the so-called "military expansion" in the South China Sea, which China claims as its territorial waters.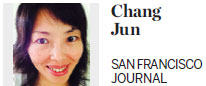 Republican primary frontrunner Donald Trump shows no lack of anti-China rhetoric either. At a campaign rally on May 1, Trump accused China of engaging in unfair trade practices with the US.
"We can't continue to allow China to rape our country," Trump told a crowd composed mainly of working-class people in Fort Wayne, Indiana. "It's the greatest theft in the history of the world."
Trump has repeatedly made sensationalistic remarks targeting China for years. On Nov 6, 2012, he said, "The concept of global warming was created by and for the Chinese in order to make US manufacturing non-competitive." On Feb 21, 2013, he tweeted that "China is not our friend. They are not our ally. They want to overtake us, and if we don't get smart and tough soon, they will."
While irritating to many Chinese, do these remarks really characterize the state of US-China relations? Or are they just a reflection of a loss of orientation in the American democratic system, a sign of US society's weariness with the never-ending battles between its two political parties?
When the American public's disbelief and outrage over its government's foreign policy, economy rejuvenation and overall competence mounts, does "bashing China" really help defuse the collective national sentiment and anger?
In a recent article signed by Fu Ying, chairperson of the Foreign Affairs Committee of the National People's Congress, the veteran diplomat agreed that perceptions in both China and the US on the China-US relationship are "highly diverse" and complicated by recent media reports painting the South China Sea as a new geopolitical wrestling ground for the two countries.
"However, if you look at what is happening in real life, you see a different picture," wrote Fu. Over the past three years, President Xi Jinping and President Obama have had six lengthy meetings that cover wide-ranging subjects, giving a strong push to the relationship by initiating important cooperative programs.
China has become one of the biggest trading partners of the US on a monthly basis, according to this year's numbers.
Every 17 minutes, there is a flight between China and the United States, averaging hundreds of flights a week shuttling some 4 million people a year.
Our two militaries are actually engaging in more exchanges and dialogues than ever before.
The world's two largest economies have launched continuous partnerships to jointly tackle difficult global issues such as climate change and nuclear security.
So, what is the real state of China-US relations?
"I often hear in the US that China is seeking to dominate the Asia-Pacific and replace US leadership," said Fu. "This is a reflection of America's own fear of losing its primacy in the world more than China's ambitions.
"The US- China relationship has come to a state where if they work together, they are capable of making a difference in the world. If they fight, they can bring disaster onto the world," Fu added.
There's no doubt that there's a gap between perception and reality concerning the real state of the China-US relationship. The gap reflects the underlying need to rebuild consensus within political, economic and academic circles in the US and China.
Maybe Hillary Clinton and Donald Trump could start for themselves by speaking and acting more thoughtfully and accurately when it comes to China and China-US relations. The two great countries need to learn to get along, no matter who's elected.
Contact the writer at junechang@chinadailyusa.com.