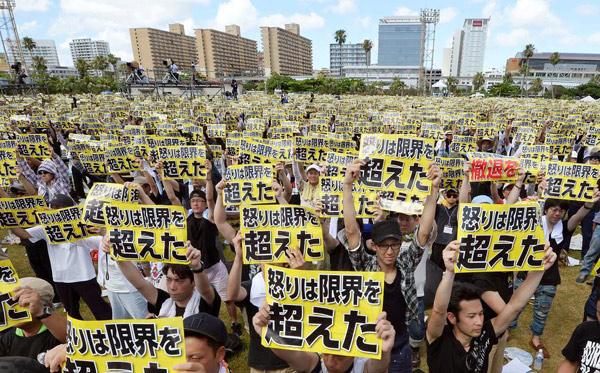 Protesters raise placards reading "Anger was over the limit" during a rally against the US military presence on the island and a series of crimes and other incidents involving US soldiers and base workers, at a park in the prefectural capital Naha on Japan's southern island of Okinawa, Japan, in this photo taken by Kyodo June 19, 2016. [Photo/Agencies]
Tens of thousands of Okinawa residents protested on Sunday against the heavy US military presence and violent crimes by American military personnel on the island. Demonstrators, claimed by organizers to total 65,000, gathered in Okinawa prefecture's capital of Naha, after a former US Marine employed as a civilian base worker allegedly raped and murdered a young woman in April. In Tokyo, some 3,000 people gathered outside the Japanese parliament demanding that US military bases and troops be removed from Okinawa.
So will Okinawa residents have their years of hope of driving US troops out of their homeland fulfilled and seen an end to the noises, environmental pollution and occasional crimes unleashed by the US soldiers? Given the strategic intentions of the US and Japanese governments in Asia, the answer, however, seems negative. To realize its "pivot to Asia" strategy, the US will have to make use of the so-called first island chain in the West Pacific to weaken the buildup of China's military. Therefore, Washington considers it very important to use Okinawa as a military outpost to monitor the developments of China's military, as a comprehensive base to bolster its "pivot to Asia" strategy and as the first forward position for a possible military strike against China.
This means the US will not shift, at least in the near future, its military bases from Okinawa. Besides, Japan's subordinate status in the US-Japan military alliance makes it impossible for Tokyo to unilaterally change Washington's military plans on Japanese territory.
In the eyes of the Japanese government led Prime Minister Shinzo Abe, Japan's extant military power is not enough to "take on" that of a rising China. So to deal appropriately with a rising neighbor, Abe hopes to allow the US to maintain its military bases in Okinawa.
For Japan, a direct military conflict between the US and China would best serve its interests. No wonder the Abe government does not want a Japan free of US military presence. Moreover, even if Tokyo demands that Washington withdraw its troops from Okinawa, it would only be a symbolic gesture aimed at appease Okinawa residents.
In fact, the Abe government can use such a demand as a diplomatic chip to hold talks with the US on other issues. It can also use the US' refusal to withdraw its troops from Okinawa to pressure local residents into agreeing to a compromise on the relocation of the US bases.
Despite their strong demand for the removal of US soldiers, Okinawa residents don't have enough means to substantially influence the US or the Japanese government. True, a majority of ordinary Okinawa residents are opposed to the heavy US military presence on the island, but some senior officials of the ruling Liberal Democratic Party and right-wingers in Okinawa support the relocation of the US military bases within the prefecture instead of their complete removal.
Such different attitudes toward US military presence in Okinawa, and the lack of ordinary residents' power to influence the US and Japanese governments, means rallies and protests will be of no use to force a change in the US military plan to construct a new military base in Okinawa or in the Japanese government's established policies.
The author is a professor of Japan studies at China Foreign Affairs University.