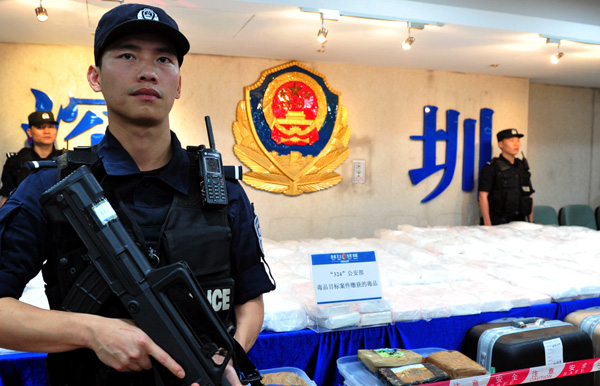 Police guard confiscated cocaine weighing 400.5 kilograms seized in a major crackdown on an international drugtrafficking chain controlled by Hong Kong residents. [Photo provided To China Daily]
Drugs corrupt individuals and ruin families. Drug-related crimes, particularly those involving violence, harm society.
Thanks in part to the nation's humiliating memories of what opium inflicted upon it, the government's vigilance against drugs and drug-related crimes never ceases.
Public security departments have redoubled their inputs into their anti-drug efforts, especially since drug-related crimes have surged along with cross-border exchanges of people and goods, and more recently increasing access to the internet. And there have been sizable seizures of both drugs and drug traffickers.
Drug-related crimes deserve high vigilance because they constitute a clear and present danger to public security.
On the one hand, the recent scandals involving popular young celebrities caught using drugs have revealed the extent of drug abuse in the entertainment industry, which, considering young people's propensity for imitating those they admire as icons, may exert a bad influence on young fans giving them the impression that drugs are cool. Such celebrity "endorsements" may easily render the authorities' drug-awareness campaign ineffective.
On the other hand, as the national police authorities have conceded, drug trafficking has found a new continent on the internet, and drugs from the Golden Triangle are permeating through our borders "in an all-round manner".
The achievement of a 22-day campaign against online trafficking, which ended with almost 9,000 suspects being caught and more than 700 kilograms of drugs confiscated, is impressive. However, that is not even the tip of the iceberg.
Even more unsettling is the Golden Triangle. The Chinese government has tried very hard to deal with the problem of drugs originating from that notorious region, because for decades it has been a main source of the drugs smuggled into China.
There has been an ambitious project to substitute cash crops for opium poppy. But a recent United Nations report highlighting the continuous increase in opium poppy planting in the past few years and the Chinese police authorities' warning of "all-round" permeation call for a comprehensive review of that project.
The grim reality of the situation should remind us that the fight against drugs cannot be won without equal emphasis on both the national and international fronts.
International cooperation appears particularly important now, because we need a sustainable approach to eradicating drugs at the source. No country is capable of achieving that single-handedly.