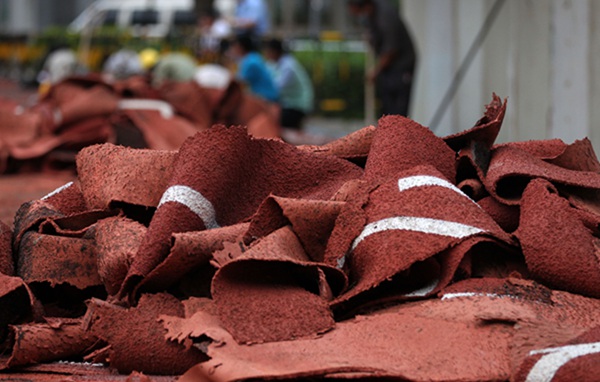 The synthetic running tracks have been uninstalled. CHINA DAILY.
Latest media reports show manufacturers are using used tires, cables, even plastic wastes as raw materials to make synthetic running tracks and sports fields. Along with this revelation come new suspicions and confusions. While some insist industrial wastes like used tires are prohibited from such uses, others say industrial additives, not raw materials, are mainly to blame for the "toxic" running tracks and sports fields.
But who do we believe?
Are those scared, angry parents, who have called for competent authorities to step in and clarify, over-reacting? Are schools, which are demolishing such tracks, closing sports facilities, even entire campuses, over-reacting?
If the answer is yes, to what extent should they be worried about the harmful potential?
Dozens of schools across the country have been embroiled in the "toxic running tracks" scandal. In this high degree of public health hazard, the victims are mostly minors who are more vulnerable to toxicity than adults.
Still, competent authorities, who should have shown up at the very beginning, remain silent, as if nothing has gone wrong.
But despite the complaints about government dereliction, the Beijing municipal government deserves applause for being the first to order a citywide probe into athletic tracks in local schools. It even suspended the laying of new tracks in schools.
Strangely, however, the education authorities appear hesitant about the latest developments even as multiple schools report ailments allegedly related to toxic sports fields, fear of synthetic tracks spreads widely and worried parents cry out for answers.
The authorities on quality supervision and inspection, too, are yet to break their silence on the matter, as doubts about both national standards and their implementation mount.
It is a shame that competent authorities have appeared so indifferent. Their silence has already prompted speculations about "unspeakable secrets". The longer they keep silent, the more rumors and suspicions will do the rounds.
Some people may be waiting for the latest exposure of irregularities in the production process to distract public attention and shift the focus away from some crucial questions. But chances are the public will not buy any incomplete solution.
Not to mention that, just as people wonder why and how such toxic materials found their way into schools, and what is the real scope of the problem, there have been new reports about the artificial lawn of a school in Hangzhou, East China's Zhejiang province, being found problematic.
How long will it take for the competent authorities to break their silence?