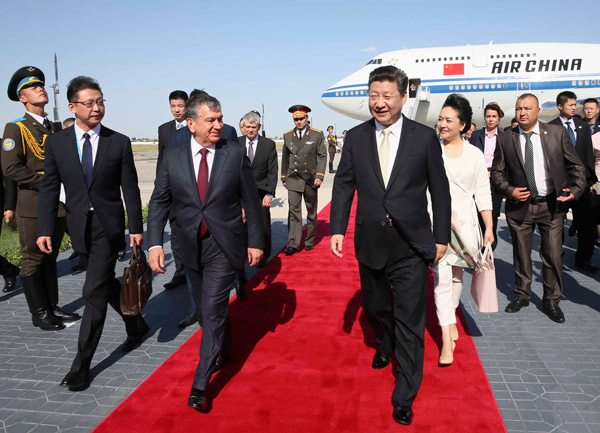 Chinese President Xi Jinping (R,front) and his wife Peng Liyuan are greeted by Uzbek Prime Minister Shavkat Mirziyoev (L,front) and Governor of Bukhara Province Muhiddin Esanov upon their arrival at Bukhara International Airport, Uzbekistan, June 21, 2016. [Photo/Xinhua]
Enlarged SCO, stronger moral voice
Some observers have read an aggressive political, even military role into an expanded Shanghai Cooperation Organization as both India and Pakistan are likely to be made full members at the 16th SCO summit in Tashkent on June 23-24. A few have even fantasized the SCO as a counterbalance to NATO. Nothing can be farther from the truth.
The SCO's founding members have made it clear that the twin principles of openness and transparency will continue to drive both its ethos and action.
But the SCO's role cannot be isolated from the tumultuous international context. The US' invasions of Iraq and Afghanistan and its interference in Syria have destabilized large regions. Its role in the South China Sea has been unwise. And its egging of NATO into assuming an anti-Russia position can only be described as reckless. So by incorporating South Asia, the SCO will gather more mass, and thus more traction, in making its moral voice and friendly advice heard.
Regarding the risk of India-Pakistan rivalry affecting the SCO, it is true relations between the two countries have not been smooth, but both have vowed to respect the SCO's principles and culture.
Beijing and Islamabad have been drawn even closer thanks to China-Pakistan Economic Corridor, and Pakistan is bound to emulate both China and the ethos of the SCO in leveraging its unique geographical position to strengthen its economy and fight terrorism. Also, the SCO will provide Islamabad with another platform to further develop its already improving ties with Moscow.
For India, the SCO will provide equally palpable benefits. India has some border disputes with China-mostly a legacy of its colonial history-and the SCO will offer it a good opportunity to engage with China, which is more than willing to partner it in its economic development. As a full member of the SCO, India will also ponder whether to join a futile and self-defeating coalition of sorts being formed by a third country against China or to join hands with China in ameliorating the lives of its huge population.
China and Russia are now two of the most important poles in the new economic and political world order. A multipolar world will be a safer and more prosperous world than a unipolar one, and the strengthened moral voice of an expanded SCO will be mutually beneficial for its current and new members, and for the international community.
Aamir Khan, based in Pakistan, is a visiting professor at Beijing Dublin International College at Beijing University of Technology.
India, Pakistan have roles to play in SCO
There are concerns over the negative implications of making India and Pakistan full members of the Shanghai Cooperation Organization given their contentious bilateral equations. Indeed, there is some truth in these insinuations, especially because the SCO works by consensus, with all members having veto powers.
But despite the 25 years of hiccups of the not-so-robust South Asian Association for Regional Cooperation, India and Pakistan have cooperated on various issues in the association, from creating a South Asian Free Trade Area in 2006 to launching a South Asian university in 2009. SAARC was also the first (in 1987) to adopt a Regional Convention for Suppression of Terrorism, which was upgraded through an "Additional Protocol" in 2003.
Moreover, the existing six members of the SCO have taken cognizance of the two South Asian countries' track record as observers in the organization since 2006. Besides, the rigorous process of their induction, which started in July last year, will continue for at least one more year and further familiarize them with the SCO's robust substance and style.
The bilateral equations of India and Pakistan will benefit from the positive energy of the SCO but will the SCO gain anything by having them as full members? Yes, because India and Pakistan both are major victims of terrorism, which remains the most enduring focus of the SCO ever since its inception in 2001.
In fact, Tashkent that is hosting the SCO summit also houses the SCO's Regional Anti-Terrorism Structure and the induction of India and Pakistan (and potentially Iran) will strengthen the organization's remit to fight terrorism. India has been working since 1996 to evolve a "Comprehensive Convention on International Terrorism" and RATS could provide it with an ideal platform to build a shared understanding with Eurasian countries, with Russia and China in the lead.
President Xi Jinping's three-nation tour has generated further excitement about China's Belt and Road Initiative, the Silk Road Economic Belt and the 21st Century Maritime Silk Road, which could prompt India to explore comprehensive partnerships with the initiative and some of its own similar initiatives. More important, the SCO will enable India to balance its growing closeness to the US by strengthening its engagements with Russia and China.
But Pakistan will benefit much more by its stronger integration into the Belt and Road Initiative, which will expedite the building of the China-Pakistan Economic Corridor, give it greater recognition as being critical to Afghanistan's stabilization and, most of all, help it return to the hyphenated relationship and parity with India.
Swaran Singh is professor of diplomacy and disarmament at Jawaharlal Nehru University, New Delhi.