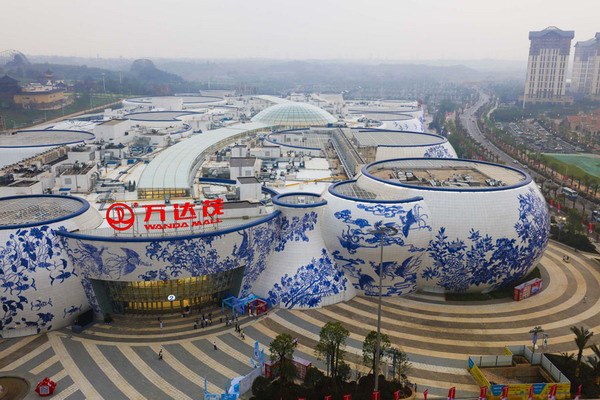 A bird's-eye view of Wanda Mall, a section of Wanda City, in Nanchang, Jiangxi province, May 28, 2016. [Photo/VCG]
With the recent opening of the Wanda Theme Park in Nanchang, East China's Jiangxi province, and the Shanghai Disney Resort, the domestic theme park industry is now in the public spotlight.
China has witnessed the fastest development of such entertainment parks in the world in recent years, with 21 opening in 2015 alone. Aside from those in the bigger cities, some medium-and small-sized cities have also started building theme parks or have made plans to do so.
However, compared with the increasing number of parks, only 10 percent of them reportedly make a profit, and 80 percent of those built in the past 10 years have gone bankrupt, with an economic loss of 300 billion yuan ($45.6 billion).
On the one hand, behind the pursuit of theme parks by domestic capital is the growing public demand for cultural products. It is estimated that the added value produced by China's culture-related industries is expected to exceed 4.5 trillion yuan by 2020, and this offers very bright prospects for the development of the domestic leisure market. On the other hand, market operations should be based on market rules and survival or elimination should be through market competition.
Overcooling or overheating is usually unavoidable for any industry and there is no absolute static equilibrium. Instead, dynamic equilibrium should be an endless pursuit of healthy development. In this sense, we should neither pour cold water on the booming development of theme parks nor rush to extend our support to it. Instead, we should leave space for self-adjustments.
What needs to be done is to make better use of the market's "invisible hand", actively promoting the building of rules and standards and offering possible market guidance to create and maintain a market environment beneficial to the sector's healthy development.