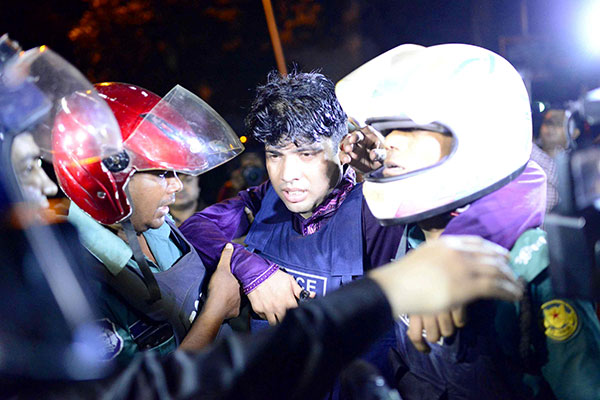 An injured member of the police personnel is carried away by his colleagues, after gunmen stormed a restaurant popular with expatriates in the diplomatic quarter of the Bangladeshi capital, in Dhaka July 1, 2016. [Photo/Agencies]
DHAKA - Gunmen killed 20 people by slitting throats soon after they stormed a Spanish restaurant in the Bangladeshi capital of Dhaka, a spokesman of the Bangladesh Army said on Saturday.
Brigadier General Naim Ashfaq chowdhury did not disclose nationality of the victims, but sources said most of the victims were foreigners.
He told a press briefing that most of the victims were killed by slitting throats.
Chowdhury said six attackers were killed during an armed raid that ended the 13-hour siege in Dhaka's diplomatic enclave Gulshan since Friday night.
"We've managed to capture one attacker alive," he said.
Some 13 hostages, including one Japanese and two Sri Lankans, were rescued.
Previous report from agencies:
* Islamic State claims responsibility for attack
* 8-9 gunmen attacked restaurant in Dhaka's Gulshan area
* Two police dead; 20 people injured
* About 20 hostages, including foreigners, in restaurant