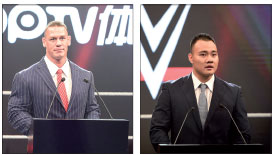 Pro wrestling great John Cena delivers comments in Mandarin at a WWE promotional event in Shanghai on June 16. (Right) Wang Bin has signed with WWE as its fi rst Chinese wrestler. WWE
These days it seems there's not a sport that China doesn't have an interest in, whether it's for athletic or commercial reasons.
From world-class soccer to boxing, from ultimate fighting to American-style football and, of course, basketball, China has increasingly invested in a wide range of sports. Western sports enterprises also are eager to find Chinese business partners.
And now China is throwing down with professional wrestling.
None other than the legendary John Cena of World Wrestling Entertainment Inc was in Shanghai on June 16 delivering a three-minute pitch promoting WWE's plans for China - in some well received Mandarin. You could call it Chinese in a no-nonsense Boston accent.
Many took to Twitter to compliment the burly Cena, with most comments along the lines of: As if being John Cena isn't enough, he now speaks Mandarin.
The 6-1, 250-pound Cena has racked up 24 wrestling championships, including 15 world titles. Cena, 39, a native of West Newbury, Massachusetts, also has appeared in numerous movies and TV shows and has recorded a rap album.
He was at the Mercedes-Benz Arena in Shanghai a week ago to talk about WWE's deal with Chinese streaming service PPTV.
WWE, based in Stamford, Connecticut, also announced that day that it had signed its first Chinese wrestler, Wang Bin, 22, to a developmental contract during the event (that naturally was attended by Shanghai local Yao Ming).
Wang, who is from Anhui province, recently left for Orlando, Florida, where he will train at the WWE Performance Center.
"It's an honor to be the first-ever Chinese talent in WWE history," said Wang (6-3, 220), who previously worked with Japanese promoter and wrestling legend Antonio Inoki (Inoki once battled Muhammad Ali in a bizarre mixed boxing-wrestling exhibition in 1976).
"There are no fans in the world that show the same passion as the WWE Universe, and I look forward to training and developing my skills so I can perform for them in the future," Wang said.
Last week's announcement capped off WWE's quest to discover Chinese talent, as the company recently concluded a four-day tryout in China.
WWE also announced that it will hold its first live event in China in more than three years, on Sept 10 in Shanghai, and that the deal with PPTV will stream the shows Raw and SmackDown in Mandarin starting on June 28.
"Today's historic announcements further demonstrate WWE's long-term commitment to China," WWE Chairman and CEO Vince McMahon said. "Partnerships with PPTV and Expo Group, as well as the signing of Bin Wang, will enable us to engage our fans in China like never before."
Expo Group is Shanghai Expo Development Ltd, whose CEO, Ding Hao, was on hand. "WWE's China debut rocked Shanghai Expo in 2010, and now we are excited that deafening cheers from WWE fans will be heard again in 2016 at the Mercedes-Benz Arena," he said.
PTV also plans to launch a new WWE website in China. PPTV features PPLive, a peer-to-peer (P2P) streaming video freeware created at Huazhong University of Science and Technology in Wuhan.
Stephen Zhang, general manager of PPTV Sports, said the partnership will "bring passion and family-friendly fun of WWE programing to millions of fans here in China just like in the US".
Contact the writer at williamhennelly@chinadailyusa.com