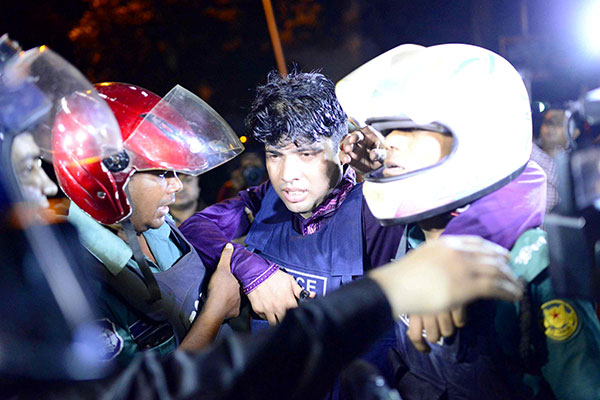 An injured member of the police personnel is carried away by his colleagues, after gunmen stormed a restaurant popular with expatriates in the diplomatic quarter of the Bangladeshi capital, in Dhaka July 1, 2016. [Photo/Agencies]
DHAKA - At least 13 hostages have been rescued as Bangladeshi commandos stormed a Dhaka restaurant Saturday morning to end a hostage crisis there, said police.
A police official who preferred to be unnamed, said at least six attackers were killed as security forces launched the operation to end the siege at the restaurant.
Gunshots and heavy sound of explosion rocked the area as joint Bangladeshi security forces kick off the operation to rescue dozens of hostages at about 8:00 a.m. local time Saturday.
Naval commandos have been called in to join personnel from the police, Rapid Action Battalion and Borders Guard Bangladesh for the operation. Bangladesh army soldiers have also been mobilized, according to the police official.
Five to six gunmen stormed the restaurant in Dhaka's diplomatic enclave Gulshan on Friday night, shooting dead two police officials in the first attack. At least 40 people, including two more senior police officials, had been injured in the incident.
The Islamic State (IS) has claimed responsibility for the attack, but the authenticity of the claim has not been confirmed by Bangladesh police.
Seven Italian nationals, two Sri Lankans and an unknown number of Japanese are thought to be among the hostages in the Holey Artisan Bakery restaurant, which is popular with foreigners.
Sources said the gunmen demanded release of a leader of banned militant outfit Jama'at-ul-Mujahideen Bangladesh (JMB) who has recently been arrested.
JMB, campaigning for the establishment of Islamic rule in Bangladesh, carried out a series of bombings in 63 out of the country's 64 districts, including capital Dhaka on Aug. 17, 2005, leaving two people dead and 150 others injured.
Hundreds of JMB leaders and activists were rounded up while six top leaders of the group, including Shaikh Abdur Rahman, were hanged in 2007.
Previous report from agencies:
* Islamic State claims responsibility for attack
* 8-9 gunmen attacked restaurant in Dhaka's Gulshan area
* Two police dead; 20 people injured
* About 20 hostages, including foreigners, in restaurant