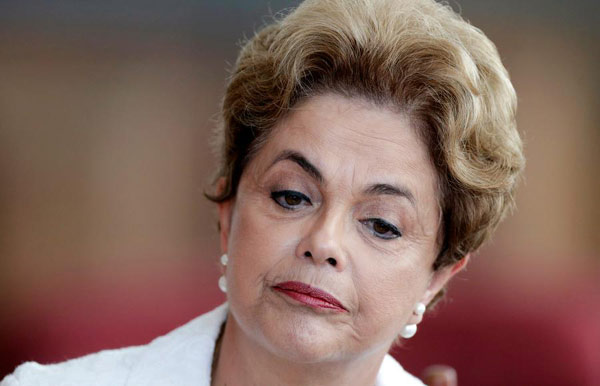 Suspended Brazilian President Dilma Rousseff attends a news conference with foreign media in Brasilia, Brazil, May 13, 2016. [Photo/Agencies]
BRASILIA - Brazil's suspended President Dilma Rousseff, has not been found directly delaying the government's payments to public banks, a practice known as "fiscal pedalling," according to a report released Monday by the Senate.
However, the report added that Rousseff was responsible for issuing two credit decrees without authorization from the Congress.
In the 223-page-document, the auditors said there were irregularities concerning decommitments without legal permission and delays in paying public bank subsidies to the Harvest Plan for financing the agricultural sector.
The document was put together using reports from the Federal Court of Accounts and with authorization from Ricardo Lewandowski, president of the Federal Supreme Court.
Both "fiscal pedalling" as well as the decrees that were unauthorized by Congress were the basis for beginning the impeachment process that suspended Rousseff from her post.
Rousseff's defence team assured that permission from the Congress to issue the challenged decrees was not necessary. But the Senate's technicians said in the report that authorization was compulsory.
Last week, the Senate's Impeachment Commission approved a new timetable which means that the final vote that will decide Rousseff's future will take place at the end of August.
If two thirds of the senators, or 54, find Rousseff to be guilty, she will lose the presidency and cannot take up a civil service position for eight years. However, if she is acquitted, Rousseff will be reinstated as president as soon as the sentence is published.