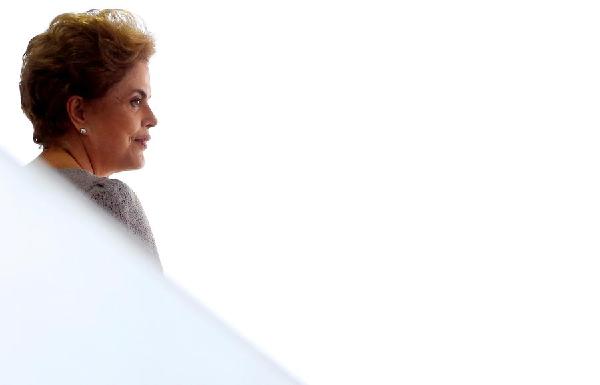 Brazil's President Dilma Rousseff arrives to a meeting with jurists at Planalto Palace in Brasilia, Brazil, March 22, 2016. [Photo/Agencies]
RIO DE JANEIRO -- The Brazilian Senate on early Thursday voted for an impeachment trial against President Dilma Rousseff, suspending the president from office.
Rousseff will be suspended until the Senate submits the case to a final trial, which will happen in up to 180 days. Vice President Michel Temer will take over in the period.
In the impeachment trial, it will take a two-thirds majority to remove Rousseff from the presidency permanently.
Analysts say this may not be difficult as the opposition managed to get two-thirds in the first voting.
Temer, whose Brazilian Democratic Movement Party recently left the ruling coalition, is seen as a spearhead in the impeachment of Rousseff. Media reports say he has an entirely new Cabinet prepared and intends to make significant changes, shifting the direction of the administration.
The president and vice president have yet to make any public statements on the latest developments.
The Senate gave the go-ahead to the impeachment trial by 55-22 in the early hours of Thursday after over 20 hours of heated discussion. Different from the session in the House, the Senate session gave supporters a chance to defend the president before the vote.
The opposition said the impeachment was necessary. Senator Magno Malta of the Party of the Republic compared the impeachment to a surgical operation.
"Brazil today is like a diabetic, feverish body, with a leg compromised by gangrene, ready to be amputated. And the logic is this: if we amputate the leg, we save the body; by not amputating the leg, we compromise the entire body," he said.
Senator Angela Portela from the ruling Workers' Party said the impeachment was not logical as it was based on alleged mistakes made in last year's accounts. She also warned about the social impact.
"We will be removing a victorious government proposal and a generous project to redesign our society, a project which foresees inclusion, protection of minorities, reduction of inequalities and economic growth with justice," she said.
"It is not fair to do what they are doing to the Brazilian democracy. They are not taking down President Dilma. They are taking down popular vote," said Joao Viana, another senator of the Workers' Party.