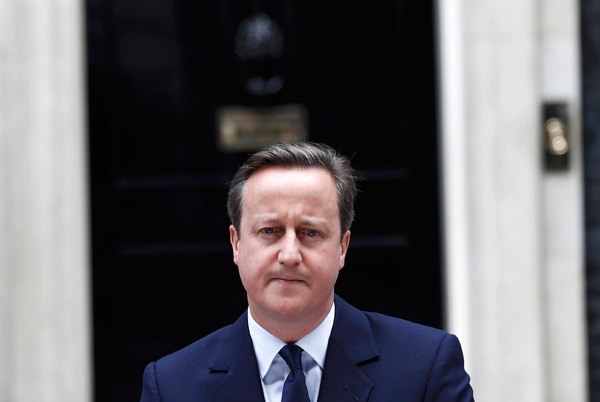 Britain's Prime Minister David Cameron speaks about the EU referendum outside 10 Downing Street in London, June 21, 2016. [Photo/Agencies]
LONDON - Prime Minister David Cameron said Thursday's referendum on Britain's membership of the European Union was likely to be very close but he also predicted a "remain dividend" in investments if Britons voted to stay in the 28-nation bloc.
With just two days to go until the referendum that will shape the future of Europe, opinion polls have indicated that British public opinion is so divided that the outcome is too close to call.
"It's very close; nobody knows what's going to happen," he told The Financial Times newspaper in an interview, published on Tuesday.
In the event of a "remain" vote, Cameron predicted an investment surge into Britain.
"I think on Friday that businesses, wealth creators, job creators will think: Britain has made a decision, let's pile back into the economy and create jobs and opportunity because it's a great place to do business," he told the FT.
Cameron also issued a warning to members of his ruling Conservative Party who say they would continue to fight for a Brexit if 'Remain' won by only a narrow majority.
"As far as I'm concerned this referendum should settle the matter," he said.
Earlier on Tuesday Cameron appealed to Britons, especially older voters, to think about the impact leaving the European Union would have on the country and future generations.