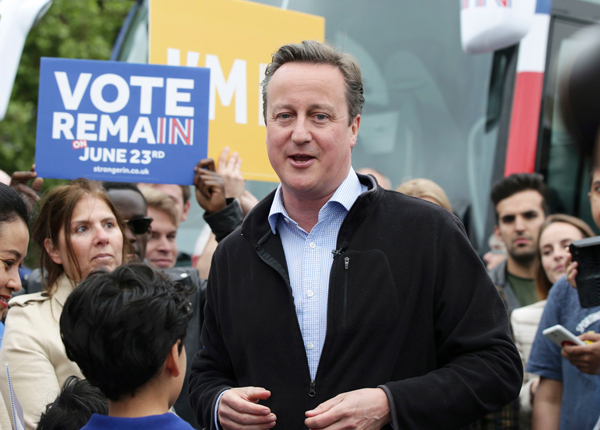 Britain's Prime Minister David Cameron makes a joint appearance with Mayor of London Sadiq Khan (unseen) as they launch the Britain Stronger in Europe guarantee card at Roehampton University in West London, Britain, May 30, 2016. [Photo/Agencies]
LONDON - British Prime Minister David Cameron, also a leading campaigner for Britain to stay in Europe, on Thursday night had his first live debate on the issue with members of the public.
In the hour-long discussion on the Sky news channel, Cameron was confronted with a host of questions from an audience unwilling to give him an easy ride.
Cameron stuck to his belief in Britain's remaining as a member of the EU.
Much of his question and answer session revolved around the hot topic of immigration, with Cameron insisting the issue could not be resolved by quitting EU.
He insisted that leaving the EU would cost each British household 4,300 pounds($6,200), a claim hotly disputed by Brexit campaigners.
The prime minister sent the studio audience home with a message: "I would just say to everybody, as we go home and wake up in the morning and look our children and our grandchildren in the eye and we think who we are responsible for through our pay packet, let us not roll the dice on their future."
"Britain doesn't succeed when we quit, we succeed when we get stuck in and we work to improve these organisations and we safeguard the prosperity and the security of this great country. To me, that's what it's all about," said he.
Brexit supporter, one of Cameron's leading cabinet colleagues, Michael Gove will face live audience on Friday night on Sky.