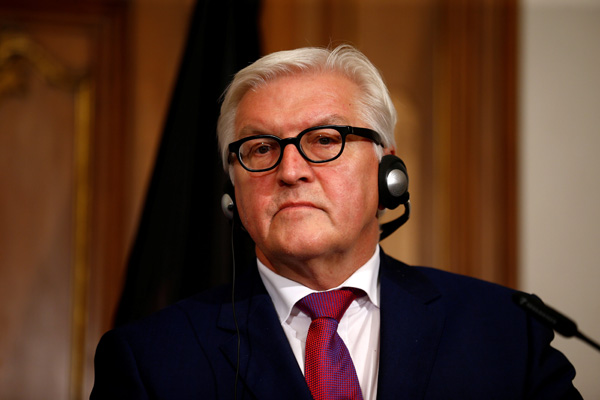 German Foreign Minister Frank-Walter Steinmeier attends a press conference in Berlin, Germany, June 15, 2016. [Photo/Agencies] 
BERLIN - A British vote to leave the European Union would shake the bloc and require a concerted effort to ensure its stability, German Foreign Minister Frank-Walter Steinmeier said on Wednesday.
Speaking at a joint news conference with French Foreign Minister Jean-Marc Ayrault, Steinmeier said they both hoped that Britons would vote to stay in the EU in their June 23 referendum. "That would be the right decision to make," he said.
"A vote to leave would shake the union. It would not just carry on as 28 (members) minus one. It would require concerted efforts to ensure that the union holds together and that a decades-long, successful integration effort does not end in disintegration," he said.
Steinmeier said France and Germany had a special role to play since they had helped to found the European Community and had experienced the fruits of successful integration for perhaps the longest period.
"We both belong to those who say ... we cannot lapse back into a nationalism that pits one European state against another," Steinmeier said.
He said both countries would work to ensure the EU's continued survival and success even if Britons voted to leave.