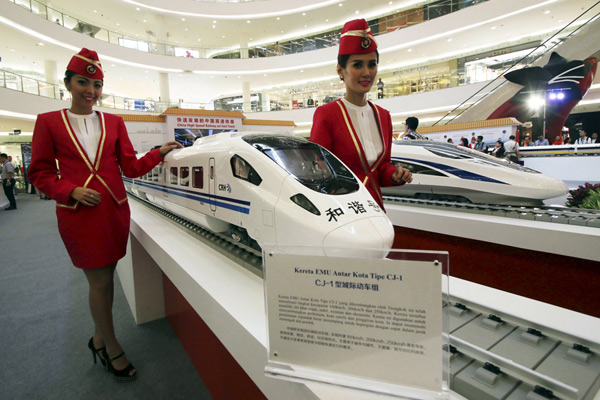 File photo shows attendants pose for a photo beside the models of a high speed train during the China High Speed Railway on Fast Track exhibition in Jakarta, Indonesia, August 13, 2015. [Photo/Agencies]
China is bidding for a high-speed railway in Southeast Asia as the country is eyeing the third key high rail projects overseas after the Jakarta-Bandung and Moscow-Kazan high speed rail.
This comes as Sheng Guangzu, general manager of China Railway Corporation, wrapped up a three-day visit to Malaysia on Wednesday to promote the bid for a high-speed rail link connecting Kuala Lumpur and Singapore.
Led by China Railway Corp, the Chinese consortium also includes China Railway Rolling Stock Corp, China Railway Construction and China Railway Signal & Communication Corp. Members of the consortium are discussing details on how to carry out the project.
"China has the world's most advanced and well-organized management system for its high-speed rail, with a series of measures to guarantee its safety," Sheng said in Kuala Lumpur, trying to introduce China Railway's rich experience to Malaysian authorities.
Sheng also brushed off concerns over the safety on China's high-speed railways, citing a research by International Union of Railways (UIC) that put China's railways with one of the best safety track records worldwide.
A source from China Railway was also quoted as saying that the Chinese consortium is getting an upper hand, given its relatively low construction costs and its appealing investment plans.
The construction of the 350-kilometer railway, the first high-speed rail project in Southeast Asia, is estimated to cost 74.5 billion yuan ($11.3 billion). Japan's Kawasaki Heavy Industries, Germany's Siemens and French company Alstom also have expressed interest to bid on the international tender for the rail project.
The rail link, once completed in 2020, is expected to cut travel time between the Malaysian capital and the Lion City to 90 minutes, compared with 3 hours by air and 7 hours by conventional rail line.
In March, China Railway announced it was investing $2 billion to build a regional center in Bandar, Malaysia, which is close to the proposed site for the terminal of the high-speed line. Analysts suggest that China Railway's recent acquisition of stakes in Bandar will pave the way for the ongoing bidding process.
Last June, China and Russia reached an agreement to build a high-speed railway line linking the capital city, Moscow, with the city of Kazan, marking China's first high-speed rail deal abroad.